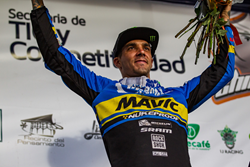 I just wanted to try and keep my speed through the mud. After stage one I had a big lead and it got me pumped for the rest of the stages
MANIZALES, Columbia (PRWEB) April 03, 2018
Monster Energy's Sam Hill completely decimated the field at the Enduro World Series (EWS) Round 2 in Manizales, Columbia and took home his second consecutive win. Dominating by a staggering margin of 47.54 seconds after a mere 18 minutes of racing over seven stages spread across two days, the Australian legend won the first four stages of racing on day two and reminded the entire field why he is the defending World Champion.
The tracks here in Manizales were short, muddy and completely wild. Steep chutes combined with random roots and drops made for an exciting day, even with the shortening of the race with the removal of one stage due to torrential rainstorms the day before Sunday's racing. The ground dries fast, but it was no match for the sheer quantity of rain that fell over night, turning upper sections of the early stages into an almost unrideable craggy peanut butter soup. Rider after rider hit the deck and it looked like it would be a race of attrition to see who could go down the least. With an estimate 20 minutes of racing to come, times were inevitably going to be tight, but Hill had a clinic to teach and blew everyone's expectation out of the muddy water.
"This is a wild, slippery place," said Hill. "It was super rutted out and blown out, and was a battle to stay on your bike. I just rode my bike as fast as I could. As I headed up for my first stage this morning I saw girls pushing and running and it looked like a nightmare. I just wanted to try and keep my speed through the mud. After stage one I had a big lead and it got me pumped for the rest of the stages. Trying to pedal through the mud takes so much out of you, even though they are short stages. I'm happy they cut one of the stages out, but it was still super tough today. The tracks here are really hard and that's what I enjoy riding and excel at. I really enjoyed the challenge."
Hill only went down once and said, "I wouldn't even call it a crash, I just sort of fell over and had to climb back up a bank to find my bike."
The rabid fans meant riders could only go a few feet before being bombarded for selfies and autographs. The long time Monster Energy athlete Hill was one of the most popular and laughed it off.
"The people here are super excited to see bike racing and have us here, so it has been awesome. Now I'm looking forward to getting back home to the family and getting a few weeks of training in hopefully before we head to France."
Monster Energy's Mitch Ropelato (USA) had his best EWS result ever with a 16th place finish, including a 5th on the final stage of the day.
Download Editorial
Riders now get a break before heading to France in three weeks time for the third round of the 2018 EWS.
For more on Hill, Ropelato and the rest of the Monster Energy team visit monsterenergy.com and make sure to follow Monster Energy's Facebook, Instagram & Twitter for exclusive updates.
About Monster Energy: Based in Corona, California, Monster Energy is the leading marketer and distributor of energy drinks and alternative beverages. Refusing to acknowledge the traditional, Monster Energy supports the scene and sport. Whether motocross, off-road, NASCAR, MMA, BMX, surf, snowboard, ski, skateboard, or the rock and roll lifestyle, Monster Energy is a brand that believes in authenticity and the core of what its sports, athletes and musicians represent. More than a drink, it's the way of life lived by athletes, sports, bands, believers and fans. See more about Monster Energy including all of its drinks at http://www.monsterenergy.com.