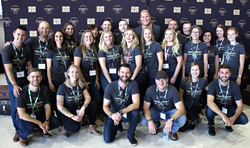 "The best cultures are built around people: both great employees and great leaders," said Counselor Editor-in-Chief Dave Vagnoni
TREVOSE, Pa. (PRWEB) April 05, 2018
The Advertising Specialty Institute® (ASI) today announced the top 40 best places to work in the promotional products industry, with Counselor® magazine naming Ontario-based distributor Brand Blvd the industry's number-one company.
The 2018 Best Places to Work list of top-ranked companies in the $23.6 billion promotional products industry – published annually since 2008 by ASI's Counselor magazine – is a mix of suppliers and distributors located throughout the U.S. and Canada. The winners were identified as top workplaces through in-depth employee surveys that rated companies in nearly 20 categories, including communication, office culture and work/life balance.
Once again, small companies dominate the list, accounting for 12 of the top 13 firms in overall rankings. There are three companies from Canada, and Washington state has the most Best Places to Work companies with five.
Following nationwide trends, ASI's surveys found that industry employers are moving away from salary and focusing more on "lifestyle" benefits like flexible hours (especially in metro areas), along with team-building and corporate transparency. In the past, companies could dangle cheap health insurance costs as a perk, but now that those costs are on the upswing, investing in technology, the option to work remotely, mentoring, cross-training and interchangeable job roles are gaining favor as incentives and rewards. Cubicles are out and open spaces are in.
"Achieving a work/life balance is more important to employees than ever, and more and more companies are responding by offering more meaningful perks, along with fun bonuses like Xbox lounges and dog-friendly offices," said Counselor Editor-in-Chief Dave Vagnoni (@VagnoniASI). "The best cultures are built around people: both great employees and great leaders. They're built on core values like respect, good communication and the opportunity for personal development."
Below are the top 10 companies on the 2018 Counselor Best Places to Work list:
1. Brand Blvd – St. Catharines, ON
2. Mac Mannes – Bethesda, MD
3. ScreenBroidery – Indianapolis, IN)
4. Harper + Scott – New York, NY
5. Superior Printing & Promotions – Medford, MA
6. The Next Trend Designs – Mississauga, ON
7. Walker-Clay Inc. – Hanson, MA
8. Bright Ideas LLC – Troy, VA
9. College Hill – Pullman, WA
10. Printable Promotions – Chicago, IL
Click here for the complete list of 40 winning companies, along with profiles, photos and podcasts.
Brand Blvd, of St. Catharines, ON, garnered high scores in every survey metric. The mid-sized distributor employs 25 staffers, plus the company's owners – Shaun Lichtenberger and Chris Sinclair, who were named Counselor's 2017 Entrepreneurs of the Year. The average age of a "Brandie" (the company nickname for employees) is 31. The company posted $8.1 million in sales in 2016, and grew by 12% last year.
About ASI
The Advertising Specialty Institute (ASI®) serves a network of 23,500 suppliers, distributors and decorators in the $23.6 billion promotional products industry, which provides effective, affordable promo products typically given away by companies to help advertise their brand or event, or to thank employees and clients. For more info: http://www.asicentral.com.