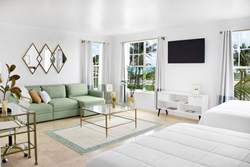 MIAMI BEACH, Fla. (PRWEB) April 05, 2018
Beach Park Hotel, a Mediterranean-style boutique hotel, has re-emerged as a millennial playground in the heart of Ocean Drive. Under the helm of MCM Hospitality, the 54-room property has undergone a functional and decorative transformation, bringing new life to the historic Beach Paradise Hotel. This pioneer project was created realize a dream of leveraging the ownership family's expertise to facilitate Cuba's transformation. Owned by a Cuban immigrant family who fled Castro's regime, the hotel concept is designed "to pay homage to Cubans' contribution to Miami's heritage and to restore the elegance of Havana — an elegance overlooked for decades" she explains.
The facility's restoration was designed for a new wave of independent thinkers, creatives and intellectuals, traveling to Miami for a more cultural experience within the South Beach tourism district. With a combination of modern technology, upscale amenities and an air of 1950s Havana sophistication, Beach Park Hotel's reboot combines the feel of old Cuba with retro Miami Beach.
Renovations will commence soon below ground with the conversion of a basement storage area to a speakeasy lounge, where guests will enter through a street art lined-alley to hear emerging Cuban talent play everything from Afro Cuban jazz to salsa. On the ground floor, the lobby has been revitalized with polished furniture and vintage décor pieces such as a piano, antique fireplace, eclectic rugs, lighting fixtures, lounge furniture and old-fashioned telephones. Rather than a standard front desk, a functioning bar will house a mixologist to prepare welcome cocktails, while an agent remotely checks guests in with iPads. Original artwork from Cuban painters are displayed in the lobby and public spaces, while Terra Cotta and Spanish tiles adorn floors, ceilings and galleries throughout the 16,939 square foot building.
The future plans for the lobby restaurant and ceviche bar radiates a modern reincarnation of Cuba through plush seating, geometric patterns, tropical wallpaper and palm leaf accents, while the pool deck's lush trees, rich foliage and vine-lined walls, will offer a hidden respite in the middle of South Beach. This area will serve food and drinks, and hand-rolled cigars, while a casual sandwich stand will sell Cuban-inspired weekend bites and late night snacks. Beach Park hopes to be finished with pool & basement construction in time for the Art Basel 2018.
Renovations have already extended to all 54 bedrooms, which have been reconditioned with sophisticated furniture, upgraded bathroom fixtures and fresh decorative touches such as tables, lamps and accent pillows. Additional refurbishments include new awnings outside the building, refreshed public restrooms and roof repairs.
The Beach Park Hotel restoration symbolizes the brand's arrival as a lifestyle destination for hip tourists and discerning locals. Through thoughtful interior design, authentic food and beverages and curated art and music, the 3-story hotel represents the intersection of a lustrous past and promising future. Meruelo adds, "Until old Habana can be restored, we will seek to replicate the lost paradise that was Cuba in South Beach."
For reservations, please email fdesk(at)beachpararadisehotel(dot)com or call at +1 (305) 531 0021. For more information, please visit http://www.beachparkmiami.com/
About Beach Park Hotel
Beach Park Hotel is a 54-room boutique hotel located on the world-renowned Ocean Drive, walking distance from South Beach's famous night clubs, restaurants and shopping areas. Originally built in 1929 by famed Mediterranean Style Architect William Brown, Beach Park Hotel was the recipient of the "Barbara Baer Capitman Award" for unique Mediterranean Style Architecture in 1979.