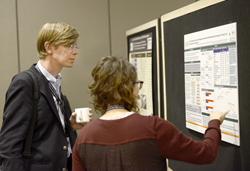 Whole Breast Irradiation is just one of the advanced treatments and protocols at West Cancer Center to improve patient outcomes.
MEMPHIS, Tenn. (PRWEB) April 04, 2018
The American Society for Radiation Oncology (ASTRO) has recently issued new clinical guidelines for the use of whole breast radiation therapy for breast cancer. At West Cancer Center, in our continuing efforts to offer the most advanced treatments and protocols to improve patient outcomes, we are proud to announce that our Radiation Oncology Department was one of the first facilities to accept these new guidelines – even before its recommendation by ASTRO.
Based on several large trials with long-term results supporting both safety and efficacy of hypofractionated WBI,on March 12, 2018, ASTRO expanded the recommended patient population to receive hypofractionated therapy, an accelerated treatment for whole breast irradiation (WBI), to include patients regardless of age, tumor stage, and prior chemotherapy. The previous recommendation, according to the 2011 guidelines, targeted older patients with a less advanced disease. West Cancer Center changed to a shorter treatment time in 2016. Since then patients have received a more convenient and less expensive therapy while maintaining excellent results.
"We believed it was in the best interest of our patients to provide larger doses of radiation across fewer treatments reducing the standard time from 5-7 weeks to 3-4 weeks" according to Matthew Ballo, MD. FACR, Medical Director – Radiation Oncology at West Cancer Center. Lee Schwartzberg, MD, FACP, Executive Director reinforced West Cancer Center's mission to create individualized treatment plans that maximize tumor control, minimize side effects and positively affect patient quality of life. He states, "Adopting and implementing treatments that are evidence-based coupled with the judgment of our experienced and highly trained Radiation Oncologists was the deciding factor between hypofractionated and conventional approaches.
About West Cancer Center:
West Cancer Center is a multi-specialty, academic, regional cancer center specializing in adult cancer and blood disorder treatment, research and prevention. Over 37,000 patients were treated across our 12 locations in 2017- of which, 13,000 were new to our network. A unique partnership with the University of Tennessee Health Science Center and Methodist Le Bonheur Healthcare has attracted 156 oncology physicians, researchers and academicians; many from other leading cancer centers working together to treat cancer. Our faculty diligently trains the next generation of cancer experts, including over 20 fellows and residents exclusively focused on advanced oncology education. With the expansion of a new state-of-the-art campus opening in early 2019, West Cancer Center is forecasted to increase annual patient visits to 42,000 and broaden our footprint from 220,000 square feet to more than 300,000 for patient care and research.
As a member of the National Comprehensive Cancer Network (NCCN), West Cancer Center embraces the mission to improve quality, effectiveness, and efficiency of cancer care so all patients have access to the most advanced treatments available. Our commitment to translate cancer science into revolutionary treatment protocols is furthered by the enrollment of 500 patients in clinical trials for 2017 and 4,210 analytic cases recorded to the tumor registry annually. West Cancer Center's focus on genomic testing and precision medicine, subspecialty care, translational research and new clinical pathways provide patients with the latest, most innovative, personalized cancer treatment plans. Our dedication to clinical excellence extends beyond conventional care with programs and services that focus on the mind, body and spirit to improve overall wellness and outcomes. For more information, visit westcancercenter.org and follow us on Facebook, Twitter, YouTube and Instagram.
About The American Society for Radiation Oncology (ASTRO):
The American Society for Radiation Oncology (ASTRO) is the world's largest radiation oncology society, with more than 10,000 members who are physicians, nurses, biologists, physicists, radiation therapists, dosimetrists and other health care professionals who specialize in treating patients with radiation therapies. The Society is dedicated to improving patient care through professional education and training, support for clinical practice and health policy standards, advancement of science and research, and advocacy. ASTRO publishes three peer- reviewed journals, the International Journal of Radiation Oncology Biology Physics), Practical Radiation Oncology and Advances in Radiation Oncology; developed and maintains an extensive patient website, RT Answers; and created the Radiation Oncology Institute, a nonprofit foundation to support research and education efforts around the world that enhance and confirm the critical role of radiation therapy in improving cancer treatment. To learn more about ASTRO, visit http://www.astro.org, sign up to receive our news and follow us on our blog, Facebook and Twitter.
If you would like more information about this topic, please call Julie Flanery at 901.800.8356 or email jflanery@westclinic.com