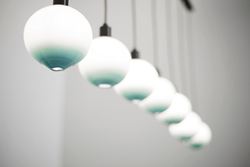 One of a kind hand-blown Czech Glass
(PRWEB) April 04, 2018
From 1984 to 2015 Arkitektura (premier European furniture and lighting showrooms) was instrumental in bringing the best of the best to its clients. Lighting has always been a factor in their success. In 2014, Arkitektura felt so strongly about lighting, they ventured into a dedicated lighting showroom in San Francisco called 'Edit'. Which was a complete disaster.
What was once an integral part of Arkitektura's design mainstay had somehow become completely irrelevant. But it was not the showroom or the highly educated sales staff that became irrelevant, it was the actual visit to the showroom…
…the culprit to this change in the market place? The Internet.
It seemed that 30 years of knowledge and direction was only now marginally valuable to clients. Free returns, no sales tax and discount won the sale. More importantly what drove this trend was the manufacturer's willingness to cannibalize brick and mortar business for the "free and easy" (or so they thought) Internet sales. And it worked. Kind of.
For the low-end and middle-end products that do not rely on quality of finish, intricacy of detail and overall proportional significance, it worked quite well. But those brands that were fully entrenched in what truly makes beauty beautiful were left jammed into the two-dimensional world of look-alikes.
So where does a brand that specializes in design, quality, and materiality turn in this noisy distribution channel? In SkLO's case, they decided to head in the opposite direction. They saw many of their competitors who were chasing Internet sales become shoehorned among the multitude of Internet sites.
Soon, special and nuanced product got reduced to commonplace.
This is how Arkitektura and SkLO have come together. SkLO is heavily invested in creating a product through material and aesthetics that make you fall to your knees. Arkitektura is a company that has been providing the venue of just such products for 35 years. Together, for the high-end world built on beauty and integrity, it's a partnership for the future.