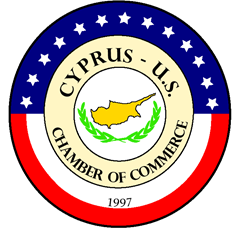 NEW YORK (PRWEB) April 03, 2018
Investor Showcase Highlights U.S. Investor Opportunities in Cyprus Tech and Life-science Sectors
Save the Date: Wednesday, May 2, 2018 from 4PM – 7PM at the offices of
Eisner Amper, LLP, 750 3rd Avenue, Floor 16, NYC
The CYPRUS-US Chamber of Commerce, a non-profit organization dedicated to promoting trade and investment between Cyprus and the United States announces today its collaboration with Kinisis Ventures Limited, a business acceleration company, on an upcoming unique event taking place in New York City on Wednesday, May 2, 2018 entitled, "CYPRUS REALIZED: A Platform for Ingenuity."
The event invites U.S. investors, European expat business leaders and worldly professionals to meet representatives of six dynamic entrepreneurial, tech and life-science companies from Cyprus, a European Union nation in the eastern Mediterranean, with U.S. differentiated and scalable value propositions. In addition to these six investment opportunities, event attendees will meet Chrysalis LEAP, a successful Cleantech accelerator based in Cyprus with incredible connections into the European Cleantech ecosystem. The founders from Chrysalis LEAP will share their vision and activities around establishing Cyprus as a Mediterranean regional hub for Cleantech innovation.
"There is a new and exciting entrepreneurial momentum building up in Cyprus" says Nicolas Nicolaou, president of the CYPRUS – U.S. Chamber of Commerce. "Not only is there momentum stemming from Cyprus' favorable business tax structures, but within the last decade, the economic and social conditions in combination with the influx of higher education academic institutions have increased the research grants which are fueling Cypriot ingenuity and entrepreneurism in the technology and innovation arena. This interesting convergence of activity is starting to generate ventures with relevancy, scalability and competitive value propositions that can compete on larger economic stages."
The Cypriot companies that were selected to pitch at the May 2nd event, include Coprime, NanoWeld, StagedoorApp, FabrikQ, NIPD Genetics, and Proto.io. All are powered by technology and innovation, have proven business-models and are highly interested in US alternative growth opportunities such a business partnerships, collaborations, investments and acquisitions.
"Cyprus is focusing on a new type of export – entrepreneurial ingenuity, which creates unique business possibilities for those of us looking for early access to unrealized investment potential," said Andreas Panayi, co-founder of Kinisis Ventures. There is an increasing number of new and innovative Cypriot companies that can compete on a larger global stage. European grants, private and institutional investors are already placing their bets in such companies especially in areas such as clean air technologies, renewable energy, e-commerce applications, healthcare and life sciences. Those who engage early will enjoy handsome global rewards."
For more information and to reserve your seat at the May 2nd, 2018 event in NYC, please visit,
http://kinisisventures.com/cyprus-realized/
ABOUT THE CYPRUS – U.S. CHAMBER OF COMMERCE
The Cyprus-U.S. Chamber of Commerce, incorporated in 1997, is a non-profit membership organization dedicated to promoting trade and investment flows between Cyprus and the United States and to foster business opportunities and closer ties amongst its own members and the greater business community in the United States. Its mission is to promote and extend the commercial, industrial, and economic relations between the Republic of Cyprus and the United States and the development of commercial exchanges between their respective industries, trades, and business, and to give every assistance to its members to attain their business aims both in the United States and in Cyprus as well as in other countries.
For more information, please visit, http://www.cyprususchamber.com/
ABOUT KINISIS VENTURES LIMITED [KV]
Kinisis Ventures Limited [KV], based in Cyprus, with presence in New York, is led by co-founders US-based Andreas Panayi, CY-based Yiannos Georgiades and a six-person Advisory Board that has more than 200 years of combined business experience in marketing, technology, finance, accounting, legal and entrepreneurship. A business accelerator focused exclusively on identifying, preparing and scaling Cyprus-based companies to engage in the U.S.A. market, the company is focused on augmenting Cypriot ingenuity mostly in technology, travel & tourism, renewable energy and healthcare.
For more information, please visit, http://kinisisventures.com/