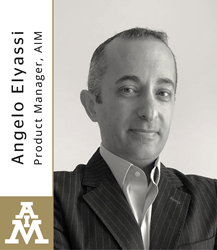 CRANSTON, R.I. (PRWEB) April 04, 2018
AIM Solder, a leading global manufacturer of solder assembly materials for the electronics industry, is pleased to announce the appointment of Angelo Elyassi to the position of Product Manager.
With a Bachelor of Science degree in chemistry and post-graduate experience in international marketing, Angelo has excelled in a wide range of roles including lab tech, chemist, product development, sales and marketing for large, well-known global companies.
As AIM's Product Manager, Angelo will form an important link between the industry and technical departments of the company. This includes managing products throughout the product lifecycle, gathering and prioritizing product and customer requirements, defining the product vision, and working closely with the Research & Development team to continue delivering winning products.
"With more than twenty years of experience in the solder industry, Angelo brings a high level of expertise to help support and grow AIM's product offering," said AIM's Executive Vice President, David Suraski. "This is a very important and exciting hire for the company. We look forward to his valuable contributions and insight."
About AIM
Headquartered in Montreal, Canada, AIM Solder is a leading global manufacturer of assembly materials for the electronics industry with manufacturing, distribution and support facilities located throughout the world. AIM produces advanced solder products such as solder paste, liquid flux, cored wire, bar solder, epoxies, lead-free and halogen-free solder products, preforms, and specialty alloys such as indium and gold for a broad range of industries. A recipient of many prestigious SMT industry awards, AIM is strongly committed to innovative research and development of product and process improvement as well as providing customers with superior technical support, service and training. For more information about AIM, visit http://www.aimsolder.com.
Upcoming Events:
April 10, 2018 – SMTA Dallas – Plano Centre, Plano, TX
April 24, 2018 - SMTA Empire – Holiday Inn Syracuse, Liverpool, NY
April 24-26, 2018 – SMTA Electronics in Harsh Environments – Crowne Plaza, Amsterdam, Netherlands
April 24-26, 2018 – SMTA China East – Shanghai World Expo Exhibition & Convention Center, Shanghai, China
May 15, 2018 – SMTA Carolinas – DoubleTree Raleigh Brownstone, Raleigh, NC