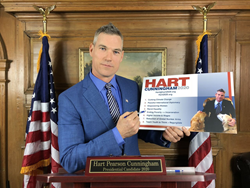 2020 would be the 150th year that humans have been burning oil. It's time to tap into the great capability of our brightest minds and innovate.
CAMBRIDGE, Mass. (PRWEB) April 10, 2018
Tennessee born All American and presidential candidate, Hart Cunningham, has released the first seven major platforms that he will build his campaign upon. He has done this as part of his promise to release 1,000 ideas to greatly improve the lives of all Americans by 2028. The fact that he has made this promise for breadth and depth in his ideas to create change is just one of the many factors that make Hart Cunningham a breath of fresh air in the eyes of many voters. He also greatly encourages bringing together the ideas of other thought leaders, scientists, and community members.
His first seven home run ideas were released on Marth 13th on his YouTube channel. Cunningham states, "These are not ideas based upon my ideas, personality, or ethos. These are not ideas based on psychology. These are ideas based on logic and common sense, and when implemented they will bring us closer to equality, a higher standard of living and human rights, and a healthier planet. I encourage everyone to do their research on everything I bring up during my campaign."
The first of Cunningham's topics is something he is extremely passionate and knowledgeable about – clean, renewable energy. In his mind, it's a no-brainer that we would move from utilizing fossil fuels as our primary source of energy to other sources like solar and wind. He says, "2020 would be the 150th year that humans have been burning oil. It's time to tap into the great capability of our brightest minds and innovate."
The second main issue is women's rights. Under Cunningham's presidency, women would no longer have to fight for the right to their reproductive health. Every woman would have the ability to make decisions about their own healthcare and to do what is best for them. Access to certain types of health care, such as family planning, would be free and anonymous. Another important aspect of his plan for women's rights is to provide more grants for women who wish to open small businesses. He believes that women are among the best small business owners in the country and that they should be empowered and encouraged to follow their dreams as just much as men are currently.
He also discusses peaceful international diplomacy. Cunningham believes in a plan to incentivize China to adopt solar energy and an eco-friendly way of life. He would bring together the top 1,000 scientists from all of the major countries to come up with a plan on how to move forward to combat climate change. He asks, "What other president is going to say day one, it's time to address big oil and climate change? We need a presidential order that will protect the health and the future of Americans, but we also need the rest of the world to be on board. That's where China comes in."
Hand in hand with women's rights, he brings up equality. This important topic is sometimes shied away from by top politicians who fear anything controversial or potentially inflammatory, but Cunningham is not afraid to take on hard topics. He believes that there is a lack of hope, ownership, opportunity, and education for those who need it the most in our country. During his presidency, he would make resources available to minorities, women, and impoverished populations to level out the playing field in America. It's his dream to ensure that the American dream is a possibility for every citizen.
Stay tuned for new releases in Cunningham's 1,000 ideas series by subscribing to his YouTube Channel - https://www.youtube.com/channel/UCPj3zpaUiETzZIGeICFE6dg
About Hart Cunningham - #Hart2020
Hart Cunningham is running for the presidency in 2020 in the hopes of helping the world overcome struggles due to capitalism, unsustainable economic and environmental practices, and a lack of equality. After being a successful businessman for many years, Cunningham turned his attention to humanitarian work and to bringing awareness to these issues. Originally from the south, he's made his roots in California and has a deep understanding of democratic and republican politics and ideals. True to his name, Hart Cunningham wants to bring the heart back into politics in America and believes that poverty and climate change must be solved for the greater good of our world. Volunteer or contribute to his campaign by visiting, http://hart2020.org.
Follow Hart Cunningham on social media:
Twitter: https://twitter.com/HCfor2020
Facebook: https://www.facebook.com/HartCunningham2020/