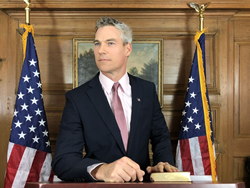 Hart Cunningham makes it clear that under his leadership America would not only avoid war but would develop more secure alliances with other countries.
HONOLULU (PRWEB) April 13, 2018
In this turbulent political climate, many believe that the United States is closer to entering into World War 3 than ever before. Newspapers are riddled with reports on concerning tumultuous international relations between the U.S. and countries like North Korea, Russia, and China. In his new video titled "Foreign Diplomacy: Communicating as Fellow Leaders" Hart Cunningham makes it clear that under his leadership America would not only avoid war but would develop more secure alliances with other countries.
In discussing U.S. relations with Russia, Cunningham states, "Russia will most likely not be involved in a direct nuclear war against the United States, however, they will continue to wage cyber-attacks on our 2018 election, and therefore discourage any transparency behind their actions and activities."
In the past decade, Russia has led more than a dozen cyber-attacks against foreign countries to protect their own interests. Evidence to support allegations of their meddling in the recent presidential campaign and election is more than compelling, and relations between the two countries has become tense at best. Cunningham makes it clear that the current policies are not working to improve relations with Russia, and a different approach is necessary to keep peace and reduce the threat of future attacks.
Cunningham also discusses China and North Korea. About China, he states, "China is seeking a direct involvement in this conflict in terms of preventing the United States from having access to their borders. They want a calmer state in North Korea. However, they do not want an American infiltration. They do not want American troops on their border." Tensions with North Korea are approaching a crisis since they fired a ballistic missile over Japan.
Cunningham would take a more diplomatic approach to encourage and incentivize China to work with The United States to reduce tensions in North Korea. The explanation he gives in his video describing these situations demonstrates his knowledge and ability in foreign affairs, as well as his willingness to do things differently during his presidency. He would protect the lives of Americans and the planet at all costs, and doing that means avoiding war.
Cunningham ends his thoughts with a sobering warning, but there is also hope for a brighter future under his leadership in 2020:
"We must think about 3 to 5, 30 to 50 years down the road. The increasing use of coal and fossil fuels will only increase during wartime. The use of nuclear weapons has the potential to take millions of lives, cause devastating pollution, and create uninhabitable spaces on our planet due to destruction and toxins. This threat, this growing chance of entering into World War 3, is very real."
About Hart Cunningham - #Hart2020
Hart Cunningham is running for the presidency in 2020 in the hopes of helping the world overcome struggles due to capitalism, unsustainable economic and environmental practices, and a lack of equality. After being a successful businessman for many years, Cunningham turned his attention to humanitarian work and to bringing awareness to these issues. Originally from the south, he's made his roots in California and has a deep understanding of democratic and republican politics and ideals. True to his name, Hart Cunningham wants to bring the heart back into politics in America and believes that poverty and climate change must be solved for the greater good of our world. Volunteer or contribute to his campaign by visiting, http://hart2020.org.
Follow Hart Cunningham on Social Media
Twitter: https://twitter.com/HCfor2020
Facebook: https://www.facebook.com/HartCunningham2020/