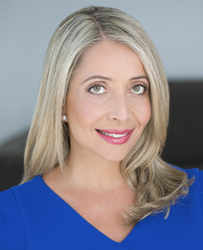 "Sandra brings an exceptional corporate experience and strong leadership skills to her role." - Diane Craig, President of Corporate Class Inc.
Toronto, ON (PRWEB) April 06, 2018
Sandra is a seasoned leader with over 18 years' of corporate HR industry experience as a talent specialist and culture strategist, most recently within the Financial Services sector.
President and Founder of CCI, Diane Craig, made the announcement; "I am excited to have such a highly qualified person join our executive team. Sandra brings an exceptional corporate experience and strong leadership skills to her role. She is recognized for building a culture focused on leadership development, her inclusion and diversity initiatives, large-scale change leadership and strategic planning for talent management."
Prior to her appointment as Vice President, Sandra was a senior HR leader at a multinational financial institution, accountable for delivering strategic HR initiatives. Throughout a 12-year period, Sandra was at the helm of creating and delivering its HR programs, integrated with business objectives, to drive performance and growth. She established a reputation for building cultures of far-reaching employee engagement to consistently achieve organizational goals.
Sandra is a compelling speaker, expert at conveying clear, insightful messages that steer results – from leading teams and advising senior executives, to connecting with client groups. She is uniquely qualified as a specialist in the emerging field of corporate well-being, notably, initiatives for leaders and teams.
Corporate Class Inc. provides Executive Presence System Training around the world to multinational businesses, Fortune 500 companies, and government agencies to optimize performance and advancement potential across every organizational level.
Recognized for coaching and training aspiring leaders, CCI facilitates customized coaching, workshops, and seminars to organizations across North, Central, and South America and from Europe to the Gulf Region and South Asia.
In addition to its acclaimed customized Executive Presence System Training and Three-Stage Assessment Program, CCI provides targeted training solutions for specific organizational levels: Board Presence for senior leaders who interface with Boards of Directors; Leadership Presence for Team Leaders; and Professional Presence for new recruits. Numerous open enrollment workshops are available for individuals throughout the year.
###