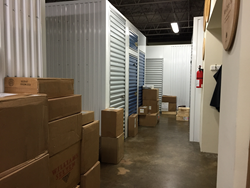 NCV packed and stored my wine while my wine room was being completed. I have and would continue to recommend Jost and his team at NCV for any wine storage options or needs.
(PRWEB) April 05, 2018
Nos Caves Vin (NCV), is perhaps the only company in Texas offering wine collectors a wide array of services to maximize their collection experience. Some customers have outgrown their home wine fridges and need creative and inventive spaces to store their hundreds, if not thousands, of bottles. Some need a safe and cold facility to store their wine collections while repairs are being made to their wine cellars. Others need assistance managing their large collections.
This is where NCV comes in with the ability to 1) design and build custom wine storage in residential and commercial spaces 2) care for wine collections and wine collectors at two off-site wine storage facilities and 3) provide complete collection management services. The management services include: packing collections for transport or storage, inventory management services and moving collections.
For the collector seeking to properly store their valuable collection at home, NCV Custom Wine Rooms will design and build a turn-key climate-controlled wine feature. The custom racking can be built from various types of woods, metal, or acrylic. The refrigeration equipment installed by NCV is engineered specifically for climate-controlled wine storage and is not impacted by Texas summers. NCV has built award winning custom wine features in homes in greater Houston, The Woodlands, Austin, San Antonio, and Boerne.
Many wine collectors don't have the space for proper wine storage in their homes, so they turn to NCV for off-site storage. NCV's two Houston locations offer secure, climate-controlled storage along with gorgeous lounges, member only wine tastings, and dinners as well as many other benefits.
"Wine collectors who store their collections at either NCV receive a variety of tangible and intangible benefits along with wine acquisition advice from Jason Sherman, our Wine Services Manager. His deep knowledge of wines is available to all NCV members who might need assistance," said Jost Lunstroth, Founder of NCV.
Managing a wine collection of any size is very important. The most important reason is to keep track of the vintages and wine quality so that wines are enjoyed before they reach their peak. No wine lover wants to suddenly realize that the prized wine they purchased years ago is past its prime! NCV works with collectors to design and maintain an inventory management system that meets their collecting habits and provides ready access to the necessary information.
"Jason and his team recently inventoried 400 bottles of wine for my new cellar. In only a few hours, Jason had catalogued every bottle in an online Cellartracker system. The process was seamless and efficient. Now, I can track my current wines, as well as make additions and deletions, in mere seconds…and all from my iPhone! I highly recommend Nos Caves Vin for wine inventory services!" –Adam Laird, Houston
"Our suite of services alleviates a lot of headaches for wine collectors. After Hurricane Harvey, many clients hired us to box up the wine in their damaged cellars, store until the wine rooms are repaired and then bring the wines back," said Lunstroth. "We have many collectors with wine at an NCV location and in wine cellars in their homes and we maintain the inventories for them at both locations. We work closely with companies that provide rapid response services to damaged homes and restaurants as well. We have been called in many times to pack up wine collections in flooded or fire damaged homes."
A recent client in Houston used the package of services. "Jost and his team were able to provide the full suite of services to meet my needs. Jost diligently worked with me on the design, and offered various options and alternatives for my wine room. His team was professional and reliable in all aspects of their work. NCV packed and stored my wine while my wine room was being completed. I have and would continue to recommend Jost and his team at NCV for any wine storage options or needs," said a recent customer from the West University area who wishes to remain anonymous.
No matter what stage you are in as a collector, Nos Caves Vin has a service that can help you achieve your goals.
More About Nos Caves Vin and NCV Custom Wine Rooms:
Jost Lunstroth is the founder, CEO, and President of Nos Caves Inc. His professional background includes seven years at Tony's Restaurant in Houston, time as an Internet Strategist to F200 companies, and a designer of award winning custom wine cellars. He designed and installed the wine features at three Perrys' Steakhouse & Grills: Memorial City, Cinco Ranch, and Austin. Lunstroth won the 2006 / 07 National Award from SubZero Wolf for The Best Use of Wine Storage in a Unique Location for a wine feature in a home on Lake Travis. He founded Nos Caves Vin in 2009.
Nos Caves Inc., specializes in off-site wine storage, custom in-home wine cellars, and cellar management.