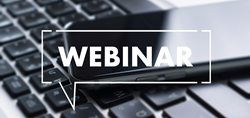 MADISON, Wis. (PRWEB) April 05, 2018
Join us for a webinar Thursday, April 12 at 11:00 AM CDT: Streamline HTS and Lead Discovery with the Transcreener ADP Kinase Assay
Identifying bona fide hits efficiently and effectively is a challenge in any small molecule drug discovery program. Using the appropriate assays for screening and hit-to-lead is an important determinant of success, but choosing from among the myriad types of assays can be a daunting process. ADP detection simplifies discovery, providing a universal approach to targeting kinases. The Transcreener ADP Kinase Assay is the only method available for direct detection of ADP. Alternative ADP detection assays use complex enzymatic coupling mechanisms making them prone to assay interference and generating false positives that require time-consuming counter-screens to triage. Transcreener's sensitivity reduces the quantity of enzyme and substrate required saving you valuable resources during your screen. And while the assay's flexibility and simplicity make it an excellent fit for HTS, there are also distinct advantages in SAR and MOA studies.
In this webinar we will discuss:

Sensitive detection of kinase initial velocity over a broad range of ATP concentrations, critical for screening such a diverse class of targets
Compound interference comparisons between Transcreener and other HTS assays
Compatibility with 1536 well-miniaturized formats along with overnight and reagent signal stability that provide flexibility in liquid handling
Using kinase assays for kinetic studies such as residence time determination
Measuring accurate IC50 values, even for potent kinase inhibitors due to robust assay signal at low enzyme concentration
After registering, you will receive a confirmation e-mail containing more information about joining the webinar on April 12th.
About BellBrook Labs:
BellBrook Labs is dedicated to accelerating drug discovery and biological research by providing innovative high throughput screening solutions. BellBrook's core technology Transcreener is a universal, homogenous biochemical assay platform based on detection of nucleotides that makes it easy to screen thousands of different enzymes. These include validated targets like kinases, as well as emerging targets like ATPases, GTPases, methyltransferases, and glycosyltransferases. Detection reagents from BellBrook Labs help researchers progress toward more effective therapies for cancer and other debilitating diseases.