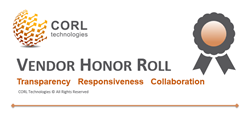 CORL launched the Vendor Honor Roll to shine a spotlight on vendors that demonstrate their commitment to collaborate with their customers and provide transparency to their security and privacy policies and practices. - Cliff Baker, CEO of CORL Technologies
ATLANTA (PRWEB) April 04, 2018
CORL Technologies, the leading provider of vendor security risk management solutions for the Healthcare industry, named three businesses to its "Vendor Honor Roll," a new recognition program for Businesses Associates serving healthcare organizations.
Ciox Health (a health information management company), NAVEX Global (provider of ethics and compliance software) and ServiceNow (enterprise cloud computing solutions provider) are three businesses named to the CORL Vendor Honor Roll by health organizations employing their services.
The vendors were selected based on four criteria: 1) a willingness to provide privacy and security information to their health entity clients, 2) ability to provide assurance of security controls, 3) responsiveness to client's inquiries regarding security and privacy practices and 4) collaboration with client information security teams to protect patient information in the healthcare industry including health systems, health insurance plans, and other health-related service providers.
As Steve Crocker, CISO of Methodist Le Bonheur, said of the CORL Vendor Honor Roll recognition, "The health industry is behind when it comes to Vendor Security Risk Management. Some vendors have been really cooperative in the process and we hope this puts healthy peer pressure on the others who have been difficult to work with or have real security challenges when we run an assessment."
Ever evolving regulatory threats, technology and business models require constant oversight and governance by health organizations to make sure data is secured by vendors. Less than 30% of vendors in the healthcare industry have a security certification and about 50% do not have qualified security professionals on staff. With recent vendors in the news for data breaches and misuse of personal information, businesses of all sizes are realizing they must cooperate on data security risk assessments, such as those performed by CORL Technologies and their health organization clients. The costs incurred by organizations in dealing with major breaches and related outages by vendors with broad data access in the industry is drawing attention internally from board members, investors and executive teams.
"Patients are at risk and healthcare organizations are incurring millions of dollars in costs dealing with security breaches at key vendors. These vendors are increasingly more essential to the delivery of quality care and healthcare operations. Our clients are recognizing that they cannot afford the risk of working with companies that refuse to collaborate on privacy and security," said Cliff Baker, CEO of CORL Technologies.
About CORL Technologies
CORL Technologies is the leading provider of vendor security risk management solutions for the healthcare industry. The company was founded in 2012 to address the immediate need for vendor security intelligence. The CORL Vendor Security Risk Management solutions are delivered as a managed service and are supported by expert research analysts who collaborate with an intelligence sharing community. With CORL, hospitals, health systems, payers and service providers can monitor risk with vendors, ease compliance audits, and improve executive communications and risk-analytics reporting. CORL Technologies is a proponent of data security frameworks, such as NIST and HITRUST, and the firm holds a SOC 2-Type II attestation. Visit CORL at http://www.vendorsecurity.com or http://www.linkedin.com/company/corl-technologies.