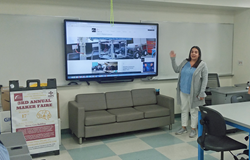 CCC Maker Spaces provide a unique opportunity to grow creative abilities and build high demand collaborative skills.
ROCKLIN, Calif. (PRWEB) April 05, 2018
California Community Colleges participating in the CCC Maker initiative, administered by Sierra College, are building makerspace communities to prepare students for careers through hands-on work-based learning experiences. On March 15, nearly 40 faculty members and industry representatives gathered at Glendale Community College for a Work-Based Learning Symposium organized by CCC Maker in partnership with the California Council on Science and Technology (CCST).
Community college leaders are embracing strategies, such as makerspaces, that adapt education to prepare students for evolving career opportunities, explained Sierra College Superintendent/President Willy Duncan. Sierra College is serving as the administrator and fiscal agent of the $17 million CCC Maker initiative which is funded by a grant from the California Community College Chancellors Office and is focused on developing educational makerspaces within the Doing What MATTERS for Jobs and the Economy framework at community colleges throughout the state.
"Makerspaces are widely recognized now as adaptive labs where learning is contextualized," said Duncan. "Faculty can offer meaningful projects tied to curriculum and students gain practical skills by interacting with industry partners. In a college makerspace, students practice innovation, develop problem-solving skills and connect to industry partners in cutting edge fields. It is very motivating for students to see the application of what they have learned in the classroom."
Makerspaces offer exceptional opportunities for community college students, according to Mike Ritterbrown, Vice President of Instructional Services, Glendale Community College. "College makerspaces are designing the kind of learning experiences that will have a lasting impact on our students," said Ritterbrown. "Project Based Learning instills such skills as problem solving, self-direction and teamwork that will help our students wherever they go. CCC Maker provides genuine experiences that are customized to a student's interests and develops skills that employers say are critical for career success."
At the CCC Maker Work-Based Learning Symposium, industry leaders reinforced the value of staging activities at a college makerspace to give students a competitive advantage in finding meaningful employment. Industry participants included: Michelle Yanez, Ed.D., Director of Educational Pathways, San Gabriel Valley Economic Partnership; Lindsey Heisser, Director, Bixel Exchange Tech Ed Partnerships, Los Angeles Chamber of Commerce; Courtney Cogan, Employment Services Specialist and Job Developer, Goodwill Central Coast and Magda Ronningen, National Program Manager-Makers Division, Industrial Fabrics Association International.
"Employers want workers with soft skills who have the desire to learn and are flexible thinkers," explained Ronningen. "Businesses are seeking adaptable, 'Do It Yourself' learners who can grow with the company and possess the ability to quickly adapt to changes in technology," said Ronningen. "CCC Maker Spaces provide a unique opportunity to grow creative abilities and build high demand collaborative skills."
Employers that mentor and offer internships at the college makerspaces can see students in action, and are increasingly using makerspace activities to screen potential employees. Lorena Hernandez-Chavoya, a student at Allan Hancock College majoring in Machining and Manufacturing Technology, found that her internship experience with a manufacturer was pivotal in planning her future. "Although I trained in the machine shop, the tasks I was assigned on the job were more organizational such as creating a system for tracking equipment and timing machining processes to update cost calculations," said Hernandez-Chavoya. "Through the internship, I realized that the ability to communicate was essential and that the job involves so much more than just knowing how to make parts." When the internship was completed, she was offered employment with the company.
Robert Mabry, Machine Technology Instructor, Allan Hancock College, and project director for the college CCC Maker team, indicated that the college makerspace has a dynamic employer advisory committee. "Dialogue with business leaders helps us know what we should offer in the makerspace," said Mabry. "Our college also built a five-member faculty team representing Science, Technology, Engineering, Art & Math (STEAM) to promote internships."
At College of the Canyons, Dr. Ron McFarland, Dean, Applied Technologies, and college team lead for CCC Maker, intentionally reached out to local manufacturers. "Through the industry network, we learned about coming opportunities and built new curriculum to match the skills we are teaching to employers' needs," said McFarland. "At our makerspace, students participate in over five hours of preparatory training. They develop a resume, post a LinkedIn profile and practice 21st Century skills sought by employers."
John Graulty, Dean of Visual, Applied, & Performing Arts, Cabrillo College, and CCC Maker team leader for the college, indicated that they hosted a "Plan-a-thon" attended by over 50 people to build community engagement with the new makerspace funded by the CCC Maker initiative. "It is really critical for students to have work-based experiences," said Graulty. "Through industry partnerships, we visit face-to-face with employers to uncover their needs so we can make the best internship placement. Faculty members are beginning to integrate 21st Century Skills into curriculum and student learning objectives. To apply for internships, students must submit an initial interest form, and then a resume."
After the symposium, community college representatives were invited to attend the Glendale Community College 3rd Annual Maker Faire. Three CCC Maker Colleges -- College of the Canyons, Allan Hancock College and Moorpark College – are collaborating with other schools through the South Central Coast Regional Consortium to host a similar Southern California Makerspace Festival on April 28 from 10 am – 4 PM at College of the Canyons Valencia campus in Santa Clarita.
Learn more about CCC Maker education and internship opportunities at the 24 California Community Colleges participating in the CCC Maker initiative at the website.
Sierra College District is rising to the needs of our community. Sierra College serves 3200 square miles of Northern CA with campuses in Roseville, Rocklin, Grass Valley, and Truckee. With approximately 125 degree and certificate programs, Sierra College is ranked first in Northern California (Sacramento north) for transfers to four year universities, offers career/technical training, and classes for upgrading job skills. Sierra graduates can be found in businesses and industries throughout the region.