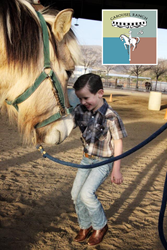 Carousel Ranch served 50% more students than ever before for a total of 130 served in 2017.
SANTA CLARITA, Calif. (PRWEB) April 03, 2018
Thanks to the generosity of more than 600 donors, Carousel Ranch achieved its fundraising goal of $100,000 during its 2018 annual giving campaign "Carousel Wishes & Valentine Kisses." That includes a matching gift of $25,000 from a very generous donation made by Wayne and Dianne Crawford. Carousel Ranch is a place where children with special needs discover and experience some of their greatest achievements through equestrian therapy and vocational training programs. These funds will provide scholarships for students in need, and support the operations and growth of the equestrian therapy program and Ready to Work (RTW!), an innovative employment readiness and training program for young adults with special needs.
"Funds raised through the campaign are a big part of the growth we have seen and will continue to see this year, which enables us to serve more students through both the equestrian and vocational programs," said Denise Redmond, executive director of Carousel Ranch. The Ranch served 50% more students than ever before for a total of 130 served in 2017. "The success of the annual campaign gives us the direct operating funds that facilitate this type of growth in the Ranch's service delivery."
Dedicated to providing developmental therapeutic and recreational programs for disabled and disadvantaged children through horses for over 20 years, Carousel Ranch has become a community treasure for reasons as varied as there are supporters. Therapy lessons are disguised as fun in an atmosphere where every child can succeed. The movement of the horse causes an inherent response from the child, relaxing muscles that are tight, increasing tone in muscles that are weak, building balance, coordination, and control.
To feel the impact, imagine a teenage girl confined to a wheelchair being lifted onto the back of a horse and knowing what it feels to walk for the first time in her life. Or watching a young boy with limited use of his right arm and leg due to a stroke suffered before birth balance atop his favorite mare.
For every child served by the program, there is an equal number of powerful stories to tell. Meet Lilly Taylor, who has been riding at the ranch since she was 3-months-old. She was diagnosed with Walker Warburg Syndrome, a form of muscular dystrophy, which has a very short lifespan. "Our family was told that her body would basically start failing her from the first day she was born," said Lilly's mother, Jen Taylor. "She has vision and hearing impairments, as well as muscle weakness. I remember the day she started riding to be the first day she vocalized. Lilly gets love and encouragement at Carousel Ranch and her father and I receive endless support and resources from the staff, volunteers, and sponsors."
Her instructor Katie Pope explains that while working with Lilly the goal is to keep her as strong as possible to fight the degenerative nature of her syndrome. The horse's movement alone engages many of Lilly's muscles that are not typically engaged and challenged. In less than a year, Pope has seen improvements in the infant's head and neck strength, vision, grasp, and endurance.
"Lilly wasn't given the best odds, but I've seen her odds improve immensely every week because of this amazing place," said Taylor referring to Carousel Ranch.
Unfortunately, there are more children needing services that cannot be accommodated. Each student lesson is subsidized so there is always a deficit. The families whose children ride at the Ranch face overwhelming challenges that most people cannot begin to comprehend. The equestrian therapy program is individualized for each student to boost the developmental and emotional benefits.
Each year many children with special needs wait for the opportunity to improve their health and experience life at Carousel Ranch.
The Ranch is growing to serve more children. It can take years to train a horse, staff, and volunteers. Money raised goes a long way toward meeting the goals of continued growth for the Ranch and its programs. For more information or to donate, visit CarouselRanch.org
ABOUT CAROUSEL RANCH, INC.
Founded in 1997, Carousel Ranch, Inc. provides equestrian therapy and vocational training programs for children and young adults with disabilities. By creating unique and individualized programs to meet each student's specific needs and goals, the Ranch strives to create an atmosphere where every child and young adult can and will succeed…a place where therapy is disguised as fun. The equestrian therapy program utilizes a combination of vaulting (gymnastics on a moving horse) and therapeutic riding (both English and Western). The Ready-to-Work! program, which began in 2016, is a unique work readiness, job training and social entrepreneurship program for young adults with special needs interested in joining the workforce. Carousel Ranch is located at 34289 Rocking Horse Road, Santa Clarita, California 91390. For more information call Carousel Ranch at 661. 268.8010 or visit http://www.CarouselRanch.org
# # #
MEDIA CONTACT:
Teresa Todd, Point of View Communications
661.257.4440 | 661.510.1908 (c) | ttodd(at)povpr.com