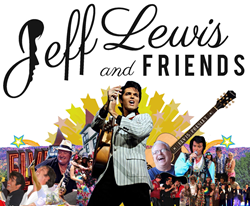 I've spent so much time working Elvis events around the country, and now I'm excited to bring the Elvis experience home to Norman.
NORMAN, Okla. (PRWEB) April 03, 2018
Elvis fans rejoice! The inaugural Jeff Lewis & Friends Oklahoma Festival will take place May 11-12, 2018. This all new event is an offshoot of the popular Jeff Lewis & Friends Festival in Helen, Georgia – a perpetually sold out event attracting hundreds of Elvis fans annually. Founder Jeff Lewis is a resident of Norman.
The festival will take place at the historic Sooner Theatre (101 E. Main St.) with 7:30pm headliner shows on May 11 & 12 and an afternoon Gospel event on May 12 at 3:30pm. An official late night After Party will also be held after the main event on May 11th.
Some of the world's top Elvis tribute artists are scheduled to appear, including Ultimate Elvis Tribute Artist Champions Dean Z, Bill Cherry and David Lee, as well as award-winning tribute artists Austin Irby, Ben Thompson, Cote Deonath, Riley Jenkins, David Allen, Jeff Barnes and Michael Cullipher.
"I am so proud of my hometown and so proud of the Elvis World that has been so good to me, I just wanted to bring the two together," says Lewis, who saw Elvis in concert at the Lloyd Noble Center in Norman on March 25, 1977. "I've spent so much time working Elvis events around the country, and now I'm excited to bring the Elvis experience home to Norman."
Like it's Helen counterpart, the Oklahoma festival will be hosted by Tom Brown who is widely considered one of the world's leading experts on Elvis. Brown is the longtime host of Elvis Week in Memphis, Tupelo Elvis Festival and Nashville Elvis Festival (which he co-founded in 2017). Elvis fans will also recognize him from Graceland's "Gates of Graceland" web series.
General Admission tickets for each event are available via EventBrite. A limited number of VIP Packages are also available. Visit the website for more information: http://www.jefflewisandfriends.com/oklahoma-festival/.
About Jeff Lewis:
Jeff Lewis is a GRAMMY® nominated singer-songwriter, actor and emcee. In addition to the Jeff Lewis & Friends Festival events, he is the host of the incredibly popular Elvis Week after parties at the world famous Hard Rock Café in Memphis. An Elvis Tribute Artist himself, Jeff has won the Last Chance Ultimate Elvis Tribute Artist Contest at the Hard Rock Café in Memphis and the Potawatomi Elvis Tribute Artist Championship, winning the highest prize money ever paid out for an Elvis tribute artist competition. He has also toured and performed with some of the biggest names in Country music, including Buck Owens, John Anderson, Nitty Gritty Dirt Band, Wynonna, Rodney Crowell, Ronnie McDowell, Garth Brooks and more.