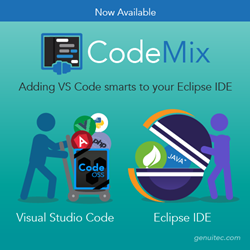 "CodeMix brings together the best of Eclipse and VS Code features, in a single product." said Tim Webb, VP of Operations.
DALLAS (PRWEB) April 11, 2018
Genuitec, a leader in the Eclipse open source community, announces a technical preview of CodeMix. This amazing new technology puts the wide array of tooling, language, and framework support that is available from Visual Studio Code, including Code OSS-compatible extensions, right at your fingertips inside Eclipse!
"CodeMix brings together the best of Eclipse and VS Code features, in a single product." said Tim Webb, VP of Operations. "It gives you, an Eclipse developer, access to a wide array of technologies from VS Code itself and add-on extensions built for Code OSS. There is no longer a need to decide between superb Java tooling and awesome support for dynamic language and web technologies."
CodeMix provides a rich experience and robust features including editors, integrated command palette, debugger, and extensions, among others. For daily coding, this product adds as-you-type content assist, detailed snippets for languages and technologies, and advanced code preview hovering and navigation. To improve quality, CodeMix does both project-level and as-you-type validation with quick fixes. Jumping between files and symbols, code refactoring, getting a build running, and more is now made possible through the command palette. Anything from React to Python can be debugged with CodeMix, and a full array of functionality is now added through the many extensions available on GitHub.
CodeMix is free to try for 45 days, and plans are available to purchase before the free trial expires. For full pricing details, please see the pricing page.
If you're already a Genuitec customer, you can use your Webclipse, Angular IDE or MyEclipse Pro (or higher) license with CodeMix, see our FAQ for existing customers to get additional details on the relationship between these products and CodeMix.
Learn more about CodeMix: https://www.genuitec.com/products/codemix/
About Genuitec:
Founded in 1997, and counting over 17,000 companies in 191 countries as customers, Genuitec creates tools that enable developers to build brilliant software. Genuitec offers a rich product portfolio to meet a variety of needs. Integrated development environments are perfect for a comprehensive solution: Angular IDE with superior Angular and TypeScript support for the modern web developer, and MyEclipse for the latest in front-end and back-end technologies for the Java EE enterprise. Genuitec's Eclipse plugins deliver the missing pieces: DevStyle for outstanding developer ergonomics, including the top-rated Darkest Dark theme, and Webclipse, providing these same enhancements along with tools specifically for modern web development. Rounding out the product lineup is Secure Delivery Center for simple, secure delivery of perfectly configured IDEs. All Genuitec software includes free trials and world-class support via staff and community supported forums.
Contact Genuitec today to learn more: https://www.genuitec.com/company/contact
Follow on Twitter: @Genuitec @codemixide @MyEclipseIDE @Webclipse
Follow on LinkedIn: https://www.linkedin.com/company/91479/admin/updates/
Like on Facebook: https://www.facebook.com/Genuitec
Find on Google + : https://plus.google.com/+GenuitecHome