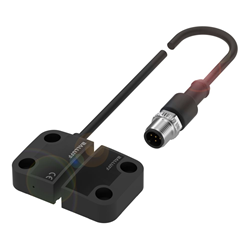 FLORENCE, Ky. (PRWEB) April 04, 2018
Balluff is pleased to announce expansion of their safety product portfolio with a range of magnetic and RFID transponder non-contact safety sensors. These switches are easily and inexpensively connected directly to the Balluff "Safety Over IO-Link" safety module or to any safety controller using standard M12 connectors. Suitable for general & harsh manufacturing environments in a variety of industries & applications, these devices add safety and productivity.
Magnetically coded safety sensor:
The non-contact magnetically coded safety switch is a cost-effective option for monitoring guard doors and gates – especially in environments where contamination or dust is expected. The non-contact operating principle means the switch is insensitive to mechanical play, such as when doors settle, wear over time or are imprecisely aligned. With separate processing electronics the safety switch can be used for applications up to PLe/SIL 3.
The proven magnetic technology with intelligent arrangement of the reed contacts in the switch housing offers strong anti-tamper security and reduces the risk of bypassing the safety function (per EN ISO 14119). With the optional available spacer you can even install the safety switch in a ferromagnetic environment.
Transponder coded safety switches:
These small, common size RFID transponder-coded non-contact safety sensors are an excellent solution for protective guards, doors and gates. The passive RFID transponders can be uniquely identified, which ensures high coding levels and therefore high protection against manipulation (per EN ISO 14119). The large operating range of the sensors makes them insensitive to vibration and mechanical play on the safety guard; for example, when doors settle or are poorly aligned. And for particularly strong vibrations, a variant with an optional holding magnet is available.
The switches' compact size, common form factor and standard mounting offer you greater flexibility integrating the device into your application. The safety sensors can be used in applications up to PLe and SIL 3 due to the built-in safety logic and the OSSD output stage.
About Balluff Inc.: Balluff Inc. is the U.S. subsidiary of Balluff GmbH, Neuhausen, Germany. Balluff is a leading supplier of networked IO-Link control system architectures that unlock the potential of the IIoT and Industry 4.0. Balluff offers a wide range of intelligent IO-Link and industrial Ethernet sensors in a variety of technologies including inductive, photoelectric, capacitive, and magnetic as well as magnetostrictive linear position sensors, magnetic tape linear encoders, industrial RFID systems, and industrial vision systems. Balluff provides cost-saving, process-enhancing solutions to machine builders and manufacturers to control, regulate, automate, assemble, position, and monitor manufacturing, assembly, and packaging sequences. Industries served include: automotive, packaging, food processing, beverages, tire, primary metals, conventional and alternative energy, semiconductor, plastics, and fluid power.