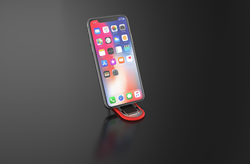 UBond easily transforms into a vertical or horizontal stand and the detachable phone grip function allows for secure, easy browsing
VANCOUVER, British Columbia (PRWEB) April 04, 2018
uBond, the world's most elegant, ingenious portable smartphone stand and grip combination, today officially launched on Kickstarter.
uBond is a patent pending light weight portable phone stand with a detachable adhesive-free phone grip. The device acts as a smartphone stand – and can also prevent phones from sliding out of a user's hand.
"uBond easily transforms into a vertical or horizontal stand and the detachable phone grip function allows for secure, easy browsing," said Jeff Yuan, the inventor of UBond.
When used as a stand, uBond uses a suction induced friction force to prevent a phone from sliding where it can also be positioned at any desirable viewing angles. With the uBond being used as a detachable grip that only uses suction force, it does not leave any traces and residue on the phone or tablet and won't compromise the aesthetics of the device.
"After trying to find an easier and nonintrusive way to hold my cell phone while doing e-reading during long commutes and trying to find a good portable stand to support my phones on a desk," added Yuan. "I came up with the innovative idea of using micro-suction cups to mechanically hold the phones in these applications."
For more information, or to purchase uBond for an early-bird discount price during crowdfunding, visit the UBond Campaign Page on Kickstarter.
About Suras Technology Inc.
Suras Technology Inc. develops innovative products for modern applications and is founded by Jeff Yuan, who holds a Ph.D. degree in Mechanical Engineering from Cornell University and currently lives in Vancouver. Dr. Yuan decided to launch Suras Technology to turn some of his innovative ideas to real products after working as a public servant in the Federal Government for 15 years.