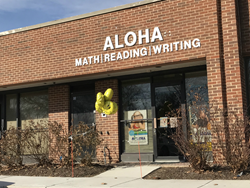 We have been successfully running an ALOHA Mind Math program in Northern Virginia for the last 9 years and we are excited to bring this program to Colombia, Maryland. Our unique concept can provide the necessary tools to excel in school and best of all give our children the confidence they deserve
COLUMBIA, Md. (PRWEB) April 04, 2018
ALOHA Mind Math is celebrating the Grand Opening of their first learning center in the region in Colombia, Maryland during the month of April. The public is invited to join them for an overview of their unique math, and their reading | writing programs plus a tour of the new facility. ALOHA learning centers cater to both high achieving children, and to those who are struggling, ages 5-12. Programs in math, reading & writing and curriculum based Accelerated School Math Program are available; information at: ALOHAMindMath.com, or Columbia(at)aloha-usa(dot)com. (443) 885-0120
Marking the 19th state into which ALOHA has expanded, the Maryland centers will bring the company's Reading | Writing programs to the state, along with their signature mind math program called ALOHA Mind Math. ALOHA also runs accelerated School Math Program which allows students more time to engage in complex application of skills and concepts, problem-solving and critical thinking with grade-level standards. ALOHA Mind Math offer children ages 5-12 life-long skills through these elementary school programs using after-school or evening academic enrichment programs. These programs are useful for parents who want to give their high-achieving children more tools to help them excel and boost in Math self-esteem. For children who need math help or improved reading and writing skills, ALOHA gives them a broader skill set to help them do better in school.
"We have been successfully running an ALOHA Mind Math program in Northern Virginia for the last 9 years and we are excited to bring this program to Colombia, Maryland. Our unique concept can provide the necessary tools to excel in school and best of all give our children the confidence they deserve," says ALOHA Columbia, MD President, Sreeja Ganesh. She adds, "We balance the use of the abacus, and mental math, with modern techniques, which give children tools to help them be successful at math learning, and build confidence, while also integrating these concepts with what children need to succeed at school."
ALOHA's teacher-led Reading | Writing program's goals are to inspire children to read and write easily and excel in language arts. The program works to motivate young minds and to develop a passion for reading and writing spontaneously. The programs ALOHA will be bringing to Maryland are designed for Grades pre-k to 5th Grade. This center also plans to have summer camp programs starting in June.
ALOHA
Since 2006, ALOHA Mind Math, a leading provider of mental arithmetic and English Reading | Writing after school programs, has been guiding children in the U.S. between the ages of 3 through 14 to achieve academic excellence in these grades. ALOHA is currently training children at over 111 locations in 20 states across the U.S. Programs also include a Tiny Thinkers pre-school program for ages 3-5, and a STEM summer camp for 10-14 year-olds. The interactive learning process ALOHA uses enhances a child's math, reading and writing capabilities. The teachers also assist children in developing skills and abilities such as observation and listening that result in the overall growth of the child. The ALOHA program is also in use in 20 countries worldwide.
For more details on these unique programs please visit https://www.alohamindmath.com or search for the center closest to you by using our locator https://alohamindmath.com/find-a-center/.