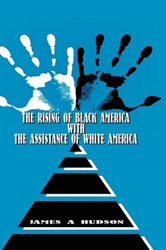 "As an African American, I strongly recommend that all who can, read the book to gain insight, realign focus, and make this country a better place to reside for all citizens." – Jimmie Garland Sr., online review
(PRWEB) April 05, 2018
Author James A. Hudson shares his insights as well as a fundamental history of how blacks coming to America from around the world have become more successful, in his book "The Rising of Black America with the Assistance of White America."
"As stated by the author, education is the key to the beginning of leveling the societal playing fields. It has been a little over 50 years since the passing of the Civil Rights Acts of 1964 and 1965. Laws written that makes it illegal to deny education to citizens of the United States of America, citizens of color in particular. Education is the proverbial key to success to matriculate into today's societal sphere. As an African American, I strongly recommend that all who can, read the book to gain insight, realign focus, and make this country a better place to reside for all citizens." – Jimmie Garland Sr., online review
Although there's still a long way to go for racial parity, America has made strides, including its election of President Barack Obama. But there are still persistent issues that must be addressed, such as lack of training, high unemployment, and non-acceptance of black immigrants by some Americans.
Says the author, "With the inauguration of a biracial president, there is hope that our nation, the United States of America, is coming of age. Coming of age in terms of racial and social perspective is a win-win situation for everyone. And so, wherever in the world the soul of Dr. Martin Luther King, Jr. may be, whether in the grave, in the skies, or in the region of the celestial sphere with his maker, it must be rejoicing together with the angels, archangels, principalities and powers that black America is rising with the assistance of white America."
About the Author: James Hudson is a U.S. citizen of Jamaican descent. He worked with county government in California for many years before relocating to Clarksville, Tennessee.
"This book offers motivation and education on how to shrink the racial gap, and not allow any American to be left behind. We are extremely proud to be the publisher," said Robert Fletcher, CEO of Strategic Book Publishing and Rights Agency.
THE RISING OF BLACK AMERICA WITH THE ASSISTANCE OF WHITE AMERICA (Kindle ISBN: 978-1-62516-745-3) is available for $7.99 at
Amazon Kindle: http://www.amazon.com/Rising-Black-America-Assistance-ebook/dp/B00E6C95AE/ and in multi-formats for other e-Readers through numerous vendors online.
The hard cover version (ISBN: 978-1-60860-142-4) is now available for $27.50 and can be ordered through the publisher's website:
http://sbprabooks.com/JamesAHudson or at Amazon.com or Barnesandnoble.com.
WHOLESALERS: This book is distributed by Ingram Books and other wholesale distributors. Contact your representative with the ISBN for purchase. Wholesale purchase for retailers, universities, libraries, and other organizations is also available through the publisher; please email bookorder(at)sbpra(dot)net.