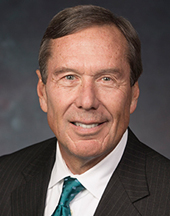 My goal moving forward is the continued success of Express. We are the premier staffing company in the U.S., Canada and South Africa, and serving the needs of our Franchisees, their clients and associates is paramount to the continued growth of Express. - Bill Stoller, Express CEO
OKLAHOMA CITY (PRWEB) April 03, 2018
Express Employment Professionals announced that plans have moved forward naming Express co-founder Bill Stoller as Chief Executive Officer and naming fellow co-founder Bob Funk as President, effective April 1, 2018.
Stoller has also been named Chairman of the Board, while Funk has been named Chairman of the Executive Committee and Vice Chairman of the Board. As CEO, Stoller will have day-to-day operational authority and decision-making responsibility of the company.
"My goal moving forward is the continued success of Express," said Stoller, "We are the premier staffing company in the U.S., Canada and South Africa, and serving the needs of our Franchisees, their clients and associates is paramount to the continued growth of Express."
Stoller and Funk agreed to this change several years ago, setting the stage for a transition leading into the company's 35th anniversary.
"Despite this change in leadership there will be continuity," said Funk. "It's business as usual at Express, and that's good for business and for all our people."
Express now boasts over 800 franchise locations, with a goal of reaching 900 total franchise locations. For every Express office that opens, on average 600 more people find work annually and work an average of 37 hours per week.
"Putting people to work is a mission," added Funk. "We will continue to put people to work so they can have successful careers and take care of their families."
As Express moves into this new phase of business leadership, the two founders are proud of their staff and company's impact on the communities they serve.
"Our organization's great staff and leadership is the main reasons for our success," said Stoller. "Within a company, the CEO and President guide the 'ship' by creating a vision, while staff ultimately mans the ship to ensure success.
We're privileged to do what we do, and we look forward to continuing for the next 35 years."
For more information about Express Employment Professionals, visit ExpressPros.com. If you are
interested in owning an Express franchise, visit ExpressFranchising.com.
If you would like to arrange for an interview with Bill Stoller to discuss this topic, please contact Sheena
Karami, Director of Corporate Communications and PR, at (405) 717-5966.
About William H. Stoller
William H. "Bill" Stoller is chairman and chief executive officer of Express Employment Professionals. Headquartered in Oklahoma City, the international staffing company has more than 800 franchises in the U.S., Canada and South Africa. Since its inception, Express has put more than 6 million people to work worldwide.
About Express Employment Professionals
Express Employment Professionals puts people to work. It generated a record $3.4 billion in sales and employed more than 540,000 people in 2017. Its long-term goal is to put a million people to work 2 annually. For more information, visit ExpressPros.com.