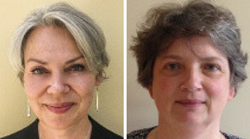 YORBA LINDA, Calif. (PRWEB) April 04, 2018
Detecting multiple biomarkers on a single slide presents many challenges: correct selection of biomarkers, sourcing and qualifying antibodies against the biomarkers, detection methods, optimization of the staining-detection protocol and how to visualize, record and interpret the resulting complex staining pattern, all without generating artefact from cross-talk at each step.
Being able to identify the contextual relationships of immune cell phenotypes and other biomarkers in a tumor is believed to be critical to understanding the state of the immune system before and after immunotherapy. Multiplex immunostaining can also be described as image cytometry or flow cytometry in situ.
In this webinar, sponsored by Leica Biosystems, speakers will demonstrate a complete solution for standardization of immunofluorescent staining and detection, digitization and analysis for tumor biopsy material. Participants will learn what Multiplex is and the role it plays in digital pathology, along with the tools available today.
The speakers for the event will be Dr. Helen Snyder, the Director of Preclinical Development & Strategic Partnerships Cell IDx; and Dr. Marie-Louise Loupart, an Image Analysis Specialist for Leica Biosystems Aperio Digital Pathology.
A 30-year veteran, Snyder received her doctorate in immunology from the University of Cambridge, UK and trained as a postdoctoral fellow at Scripps Research Institute, La Jolla, California. She has held positions as Associate Professor at the University of California, San Diego, as well as Director of Immunology at Dynavax Technologies and key business development roles at both Solulink Biosciences and Cell IDx.
Loupart received her doctorate in biological sciences from University of Leicester for deletion-mapping in human breast cancer. She has also received two diverse post-doctoral research fellowships at the University of Edinburgh, creating human artificial chromosomes, and investigating Drosophila cell cycle mutants.
LabRoots will host the webinar April 6, 2018, beginning at 9:00 a.m. PDT. To learn more about this event, discover the continuing education credits offered, or to register for free, click here.
For research use only. Not for use in diagnostic procedures.
About Leica Biosystems
Leica Biosystems is a global leader in workflow solutions and automation. As the only company to own the workflow from biopsy to diagnosis, we are uniquely positioned to break down the barriers between each of these steps. Our mission of "Advancing Cancer Diagnostics, Improving Lives" is at the heart of our corporate culture. Our easy-to-use and consistently reliable offerings help improve workflow efficiency and diagnostic confidence. The company is represented in over 100 countries. It has manufacturing facilities in 9 countries, sales and service organizations in 19 countries, and an international network of dealers. The company is headquartered in Nussloch, Germany. Visit LeicaBiosystems.com for more information.
About LabRoots
LabRoots is the leading scientific social networking website, which provides daily scientific trending news, as well as produces educational virtual events and webinars, on the latest discoveries and advancements in science. Contributing to the advancement of science through content sharing capabilities, LabRoots is a powerful advocate in amplifying global networks and communities. Founded in 2008, LabRoots emphasizes digital innovation in scientific collaboration and learning, and is a primary source for current scientific news, webinars, virtual conferences, and more. LabRoots has grown into the world's largest series of virtual events within the Life Sciences and Clinical Diagnostics community.