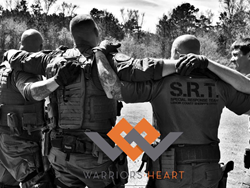 While many detoxes take place in a more sterile-like hospital setting, Warriors Heart continues to stay true to our model of having a comfortable, serene environment that doesn't feel like you are in a hospital. ~ Warriors Heart Medical Director Dr. Jeffrey R Holt
SAN ANTONIO (PRWEB) April 04, 2018
Warriors Heart, first private and accredited residential treatment center in the US for "warriors only" (military, veterans and first responders) announces the opening of a Detox Center on-site at their 543-acre ranch in Bandera, Texas. Warriors Heart has a full staff of licensed addiction specialists who provide the highest quality treatment possible around-the-clock.
The Warriors Heart programs include a Detox Center, Residential Treatment (inpatient), Day Treatment, Intensive Outpatient and long-term Sober Living treatment to those who put their lives on the line for our safety. This new detox program allows the client to receive seamless treatment and heal with "dignity, respect and courage" with an experienced clinical team.
What is different now at Warriors Heart is that clients can remain on-site at the ranch for detox, and then enter the residential treatment program at the same location. To support this new Detox Center, Warriors Heart has 24x7 licensed nurses, along with a Nurse Practitioner and Medical Director.
Warriors Heart Medical Director Jeffrey R Holt described their detox program this way, "While many detoxes take place in a more sterile-like hospital setting, Warriors Heart continues to stay true to our model of having a comfortable, serene environment that doesn't feel like you are in a hospital. It's hard enough to go through the pains of detox, we want our warriors to be as comfortable as possible with dignity and respect."
When a Warriors Heart client goes to residential treatment, individuals are initially screened to determine if drugs and alcohol are still in their system. If yes, depending on the substance, a client will need a medically supervised detox first. Anyone currently using alcohol, pain medications, benzodiazepines (examples: Valium, Xanax), heroin, or other drugs, must receive detox before entering their 42-90-day residential treatment program.
On average, detox treatment at Warriors Heart lasts 24 hours - 10 days. Alcohol detox averages 3-5 days versus pain medication detox could take 4-8 days, depending on their symptoms. The length of time really depends on how long and how much the client has used before treatment, along with withdrawal symptoms.
In 2017, Warriors Heart sent 70% of clients to detox. By setting up a Detox Center on-site, the military, veterans and first responder clients can now heal faster by staying in one place amongst peers.
And what makes Warriors Heart even more unique is the peer-to-peer program where military, veterans, law enforcement, firefighters, EMTs and other first responders can feel safe to share and heal with fellow protectors because the program is not mixed with civilians. While other rehabilitation centers have a veteran track, the veterans are in group therapy with civilians during treatment compared to Warriors Heart that serves "warriors only."
About Warriors Heart Medical Director Jeffrey R Holt
Warriors Heart Medical Director Jeffrey R Holt recently joined Warriors Heart with over a decade of experience in drug and alcohol treatment. Dr. Holt received board certification in Addiction Medicine in November 2014. He previously served as the Medical Director of the One-Eighty detox service at Hill Country Memorial Hospital and continues to work with Awakenings Hill Country (alcohol and drug detox and rehabilitation center for women), Serenity House (alcohol and drug rehabilitation) and Hill Country Memorial Hospice. Dr. Holt received his B.A. at the University of Texas at Austin, completed medical school at the University of Texas at Houston, and did his Family Medicine residency training at the Waco Family Medicine Residency Program. Dr. Holt is grateful for the opportunity to help serve those in the military, veterans and first responders at Warriors Heart.
About the Warriors Heart (Bandera, Texas, near San Antonio):
Warriors Heart is the first private treatment center in the U.S. solely dedicated to healing Warriors (military, veterans and first responders) dealing with chemical dependencies, PTSD (Post-Traumatic Stress Disorder) and other reoccurring issues. This rehabilitation program provides a unique peer-to-peer based solution to help the over 13.3 million American Warriors faced with the self-medicating struggles of alcohol addiction, prescription and drug addiction, PTSD (Post-Traumatic Stress Disorder) and mild TBI (Traumatic Brain Injury) in a private, 40-bed facility on a 543-acre ranch. Warriors Heart work has been featured in Forbes, The Chicago Tribune, CBS Health Watch, KENS5 CBS News San Antonio, FOX 10 News Phoenix, PoliceOne, Warriors Magazine, Woman's Day and Addiction Pro magazine. There is a 24-hour Warriors Heart hotline (844-448-2567) answered by Warriors.http://warriorsheart.com
Media Contact for Warriors Heart:
Liz Kelly: 310-987-7207