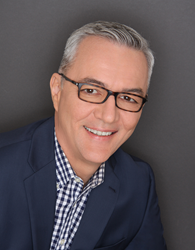 30-year real estate veteran Chuck Garrett leaves behind List Sotheby's International Realty to join Elite Pacific Properties as VP of Business Development.
HONOLULU (PRWEB) April 05, 2018
Elite Pacific Properties, one of Hawaii's leading luxury real estate firms, is pleased to announce industry veteran Chuck Garrett is joining the Elite executive team. Garrett leaves List Sotheby's International Realty to become Elite's VP of Business Development. A Certified Relocation Professional (CRP), Garrett has specialized in broker to broker as well as military and corporate relocations in Hawaii for the past eleven years successfully building strong relationships across the Hawaii/Asia Pacific Region.
"Chuck is one of the smartest, most experienced, and successful executives in Hawaii luxury real estate. He is well known across the US and globally for his relocation expertise, and he has demonstrated excellence in all aspects of luxury real estate operations. I've wanted Chuck on my team for years because we are completely aligned in business, culture, and philosophy and I'm thrilled we can finally make it happen," said Paul Mayer, Managing Partner of Elite Pacific Properties.
Garrett has made a name for himself in the Hawaii real estate industry with over 30 years of experience in real estate in Hawaii, California, and Texas spanning residential real estate sales, property management, real estate software training and implementation, and brokerage management. In 2007 he became the Relocation Director at Honolulu luxury brokerage firm Kahala Associates. In 2011 he joined the Relocation Directors Council (RDC), of which he now serves as Director. Most recently, he served as the Senior VP of Operations and Business Development at Japan-based List Sotheby's International Realty, who acquired Kahala Associates in 2014.
"Elite has created the company of my dreams. The leadership team, the agents, the technology, the support they provide, their high standards in all aspects of their business, and their intense focus on making their agents as successful as possible were all important in my decision to move to Elite. After 11 years in business development on Oahu, I'm also thrilled to expand that coverage to all Hawaiian Islands including Kauai, Maui and Hawaii Island. I've been watching Elite as a respected competitor for many years, and I am truly excited to join them," Garrett said. Chuck Garrett can be reached at chuck.garrett(at)elitepacific(dot)com
About Elite Pacific Properties:
Locally owned and operated, Elite Pacific Properties was founded in 2005 by Stephen Cipres and Paul Mayer. The company has over 200 professional agents in nine offices on Oahu, Maui, Kauai, and the Big Island, along with a 50 person support staff. As a full-service real estate firm focused on luxury residential property sales, multi-unit projects/developer sales, vacation rentals and property management, Elite is a member of Who's Who In Luxury Real Estate, an exclusive organization of the top luxury brokers in the world. Elite Pacific Properties closed 2017 with almost $1.2 billion in sales, solidifying its status as the No. 1 volume luxury brokerage in the Hawaiian Islands. The firm has also appeared on Inc. Magazine's "Inc. 5000" list for the past five years, as well as Pacific Business News' "Fastest 50" company list for the past four years. For more information, visit http://www.ElitePacific.com.