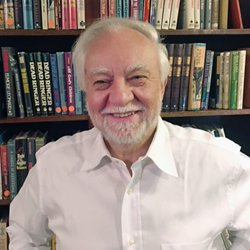 KEY WEST, Fla. (PRWEB) April 04, 2018
Mystery Fest Key West has announced that Otto Penzler, dubbed 'expert on all things hard-boiled' (Chris Talbot/AP Entertainment) and widely regarded as the world's foremost authority on crime, mystery and suspense fiction, is to be Special Guest of Honor at the annual convention of mystery writers, aspiring authors, true crime experts and fans set for June 22-24 in Key West, Florida.
A multi-award winning editor and publisher, Penzler is proprietor of the renowned 'The Mysterious Bookshop' in New York City, the oldest mystery specialist bookstore in America, and founder of 'The Mysterious Press,' which now is an imprint at Grove/Atlantic, where it publishes literary crime fiction.
Penzler served as host for Turner Classic Movies 'Month of Mystery' in 2002 and has edited more than sixty mystery anthologies, including 'The Big Book of Jack the Ripper,' 'The Big Book of Sherlock Holmes,' 'The Best American Noir of the Century,' 'The Best American Mystery Stories of the 19th Century,' and 'The Best American Mystery Stories of the Century.'
Penzler, who will appear on a 'State of the Publishing Industry' panel as well as co-host Saturday evening's social event at the historic Key West Lighthouse, will be joined at the Fest by Keynote Speaker Ace Atkins, the multi-award winning, 'New York Times' bestselling author of twenty-one novels, including the recent Robert B. Parker 'Spenser' mysteries; Special Guest Presenter, 'New York Times' and 'USA Today' bestselling author Heather Graham; 'New York Times' bestselling author Lisa Black, bestselling and award-winning author Nancy J. Cohen; 'New York Times' bestselling author Diane A.S. Stuckart; 'New York Times' bestselling co-author Charles Todd, and many others.
'I've had the joy of being a speaker at the Key West Literary conference and been jealous of my friends and colleagues who have been guests of Mystery Fest. I can't wait to come back and am honored to have been asked,' Penzler said.
In addition to panels and presentations with some two-dozen high profile and award-winning mystery authors and true-crime experts, 2018 Fest highlights include book signings, professional publishing and marketing discussions, a mini Conch Train tour around the island of Key West, and annual presentation of the 2018 Whodunit Mystery Writing Competition and Award.
Sponsored by the Monroe County Tourist Development Council, the Key West Citizen daily newspaper, Mystery Writers of America – Florida Chapter, the Helmerich Foundation and the Florida Keys Council of the Arts, all panels and presentations will take place at the DoubleTree Resort by Hilton Grand Key in Key West. Event registration is $195 and includes all panels and presentations, a luncheon and a brunch at Key West's historic seaport. For a full Fest schedule, online registration, and links to accommodations visit MysteryFestKeyWest.com.