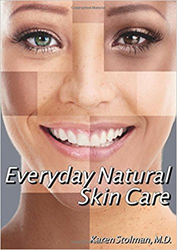 SANDY, Utah (PRWEB) April 04, 2018
As a dermatologist, Dr. Karen Stolman sees patients every day in her clinic with skin concerns. Because of this, she wanted to have an easy reference for them to read when at home, that would contain important steps to healthy skin as well as guide them as to what products and treatments to consider. It prompted Stolman to write "Everyday Natural Skin Care" and "Everyday Acne Care" (published by Lulu).
These books provide concise reviews of crucial dos and don'ts to keep the skin looking its best at all ages, prevent, and control all types of acne. Readers will learn simple and crucial skin care secrets that they have not heard or understood before, and will assist them in deciding on what skin products and treatments to purchase.
"The health and appearance of our skin is something we think about everyday, whether we want to or not, because we and others see our skin every day," Stolman says. "These books are concise, easy to read and have just enough detail to help you understand the concepts."
"As a board-certified dermatologist, specializing in aesthetic dermatology, and serving on a university faculty, I have access to cutting-edge information and research about the skin. Through my books, I want readers to learn something that assists them in their everyday health and well-being, and walk away feeling confident that they can get control of their skin."
"Everyday Natural Skin Care"
By Karen Stolman, MD
Hardcover | 8.25 x 10.75in | 54 pages | ISBN 9########
Softcover | 5.83 x 8.26 in | 40 pages | ISBN 9781387535125
E-Book | pages | ISBN 9781387529070
Available at Amazon and Barnes & Noble
"Everyday Acne Care"
By Karen Stolman, MD
Hardcover | ### x ###in | ### pages | ISBN 9########
Softcover | 5.83 x 8.26 in | 40 pages | ISBN 9781387504589
E-Book | pages | ISBN 9781387522408
Available at Amazon and Barnes & Noble
About the Author
Dr. Karen Stolman is a board-certified dermatologist and dermatologic surgeon, in practice for more than 18 years. She is also a faculty member of the University of Utah School of Medicine, Department of Dermatology and a member of the American Academy of Dermatology. She is also the author of "http://www.skincreamguide.com" and "http://www.skinality.com."
Lulu empowers people of all ages to explore and express their interests, passions and expertise through books, photography and art. Since introducing self-publishing in 2002, Lulu has empowered creators in more than 225 countries and territories to produce nearly two million publications. Lulu Jr. allows children to become published authors, encouraging creativity, strengthening literacy and building self-esteem. Picture.com offers professional photography of collegiate and professional sports, memorable and historic events, fine art and home décor. For more information, please visit http://www.lulu.com.