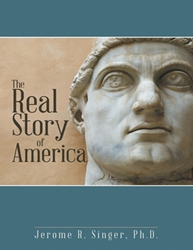 BERKELEY, Calif. (PRWEB) April 04, 2018
Jerome R. Singer, Ph.D., believes that history books about America provide false and slavish information. To correct this, he releases "The Real Story of America" (published by Lulu). Singer uses his scientific background to study American history. In the book, he tries to illuminate the backgrounds of the nation's forbears and how that drove leaders to war, peace, disasters, freedom and civilized behavior.
According to Singer, the book provides insights into the lies and exaggerations of American history. He asserts that religions strongly influence America and has done so from the start. Furthermore, the book describes the roots of religion, the development of European government as it influenced America, and every one of the presidential administrations from Washington to Trump.
"(My book) debunks historical baloney, and provides interesting insights into disastrous history events which deft common sense." Singer hopes that with the book, readers will understand world history as rooted in the need for justice and prosperity. "The future is a cloudy ball, but reality and sensibility will prevail."
"The Real Story of America"
By Jerome R. Singer, Ph.D.
Softcover | 6x9 in | 296 pages | ISBN 9781483478371
E-Book | 296 pages | ISBN 9781483479156
Available at Amazon and Barnes & Noble
About the Author
Jerome R. Singer, Ph.D., trained as a machinist. After maritime training, he served as navigating officer on troop ships during World War II. After the war, he went to the University of Illinois, Northwestern University and the University of Connecticut where he received a doctorate degree in physics. He served as professor of engineering science at the University of California, Berkeley for 25 years. He and his graduate students invented the first MRI. Afterwards, he started, and was president of several corporations: Alpha Scientific, Inc., Unisoft Corp. and Four D Imaging Inc.