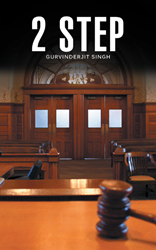 KULIM, Malaysia (PRWEB) April 04, 2018
Gurvinderjit Singh believes that racism, discrimination, stereotype thinking and misunderstanding are still the main reasons why people could not unite as one. For him, most people still look at, set their minds and judge others according to their religion. This thought prompted Singh to write "2 Step" (published by Partridge Singapore), a book that was inspired from an authentic bomb blast incident that transpired in Davao City, Philippines in 2016.
The Regional Trial Court of Emerald City called for a hearing of this case, and there were two lawyers—Advocate Ronald and Advocate Hasim—who were fighting in the court. The main issue was whether Islam had any involvement or relation to the bomb that blasted in Rochester night market. In this case, Advocate Ronald strongly agreed that Islam was involved in the bomb. Advocate Hasim opposed it.
Will Chief Inspector Alex Roiman be able to break the code of 2STEP? Will Advocate Hasim be able to find proof that Islam was not involved in the bomb blast in Emerald City and try to change the mindset of people to judge any incident or anything individually and not according to their religion?
After reading "2 Step," Singh hopes readers will judge other people's deed individually and avoid passing judgment on others based on their religion. He wants them to understand a situation first and think of a rational decision based on a situation. Lastly, he wants people to live in harmony, avoid racial discrimination and break their stereotype thinking.
"2 Step"
By Gurvinderjit Singh
Softcover | 5 x 8in | 212 pages | ISBN 9781543745108
E-Book | 212 pages | ISBN 9781543745092
Available at Amazon and Barnes & Noble
About the Author
Gurvinderjit Singh was born in 1995 at Kampar, Perak and he has grown up in Kulim, Kedah. He is currently pursuing his degree in Bachelor of Fine Arts (Acting and Directing) at Universiti Sains Malaysia. Singh has been involved in the scriptwriting field at the age of 13 in his secondary school in SMK Tunku Panglima Besar. He has also involved in the Kulim Bandar Baharu District Level English Language Drama Competition from 2008 until 2012. Among his written scripts that have not been published include "Happy Diwali (2008)," "The Bully (2009)," "Two hand is better than one (2011)" and "The Curse (2012)." He hopes that he could be a good and a professional scriptwriter in the upcoming future as well as learn from his mistakes to become a better person by helping others.