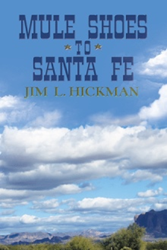 PINSON, Ala. (PRWEB) April 04, 2018
Growing up during the Great Depression of the 1930s, then World War II, Jim L. Hickman traveled with his family from the Ozarks west. He attended high school close to Bent's Fort on the Santa Fe Trail, hearing stories of traders, mountain men and pioneer settlers. He wondered where the horses, mules, donkeys, burros and oxen came from that made all this possible. He wanted to research and write about what he found and the result of which is his book "Mule Shoes to Santa Fe" (published by LifeRich Publishing).
In 1840, three strong young men who were cousins left the Smoky Mountains. They traveled with the mules and Morgan horses with their families and headed towards west. They are scouting the best routes to Santa Fe, Mexico, and where they can locate, hold, feed and shelter animals to supply the western settlement activities. Their escapades and increasing tough reputations take them there and back. When they returned, they became much wiser and even got several surprises.
"This book has international intrigue, family ties, violence, romance, strength, joy and tragedy. It shows how life is when a person lives with the bare necessities and where the horses, mules, donkeys, burros and oxen came from that made all this possible," Hickman says.
"This story shows the strength and importance of families. It shows the importance of initiative, compassion for the unfortunate, weak, injured or grieving. It shows appreciation for common sense, strength, knowledge and the work of our Creator in our marvelous land."
"Mule Shoes to Santa Fe"
By Jim L. Hickman
Hardcover | 6 x 9in | 264 pages | ISBN 9781489712691
Softcover | 6 x 9in | 264 pages | ISBN 9781489712707
E-Book | 264 pages | ISBN 9781489712684
Available at Amazon and Barnes & Noble
About the Author
Jim Hickman and his wife, Gemma, live in Clay. Growing up during the Great Depression of the 1930s, then during World War II, Hickman traveled with his family over much of the Ozarks, Kansas prairies, and the Rocky Mountains of Colorado and Wyoming. He attended high school at La Junta, Colorado just a short distance from the Santa Fe Trail and Bent's Fort, which he writes about. He served as a commissioned officer for the United States Nave Reserve on active duty during the Korean War. He started his career with the U.S. Forest Service as a smokejumper, stationed at Missoula, Montana. His life of adventure included being an avid skier, pilot and a white water racer. He traveled in all 50 states, Canada, Mexico, Brazil, Africa, Thailand, Scandinavia, Northwestern Europe, Eastern Europe and the Western Mediterranean. He retired from the forest service in 1993, with 40 years of government service, including the military. He has been writing non-fiction short stories for 12 years, and has self-published one book of short stories.
LifeRich Publishing, the strategic publishing partnership of Reader's Digest and Author Solutions, LLC, was created to provide all writers a platform for sharing their stories, recipes, advice and more. LifeRich authors will benefit from a wealth of editorial design, marketing and education resources, specially created by Reader's Digest editors for the enrichment of these LifeSmart individuals. Books can be published in print, ebook or audio formats, with additional distribution to up to 25 million Reader's Digest customers through its online properties. Follow @LifeRichPub on Twitter or "Like" us at facebook.com/LifeRichPublishing for the latest updates.