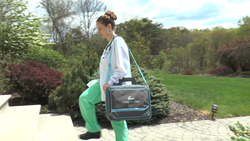 Beyond telemedicine - Empowering care providers to perform comprehensive exams at any care point and enable doctors to remotely make in-clinic quality diagnosis and treatment decisions, anywhere in the world.
WEXFORD, Pa. (PRWEB) April 05, 2018
Rijuven has launched a cost-effective and plug-and-play Care Delivery Platform that provides healthcare providers and patients with a comprehensive and flexible set of health assessments and actionable analytics. The Care Delivery Platform empowers care providers to perform a variety of health exams at any care point and leverages the ubiquity of mobile to enable doctors to remotely make in-clinic quality diagnosis and treatment decisions, anywhere in the world.
The company's solution gives healthcare providers a bird's eye view into their patients' medical conditions and help them to better manage their health. "We are very excited to be part of the solution to the complex issue of increasing access to care by extending and delivering care at the patient's home without compromising on the quality of care. Our technology gives healthcare providers the ability to go beyond telemedicine and make in-clinic quality diagnostic and treatment decisions remotely. We bring the clinic to the patient, the way it should be," said Evens Augustin, CEO of Rijuven. As a result, healthcare providers get actionable information to help them interpret and connect the dots and improve care coordination.
Healthcare providers now have access to several remote patient care management services, giving them tremendous opportunities to better manage the health of patients, especially those with chronic conditions. Those services include Chronic Care Management, Remote Patient Monitoring, Transitional Care Management and Occupational Health. Rijuven's remote patient care technology reduces healthcare costs by better engaging patients and promoting early intervention to keep chronic conditions managed and hospital readmission at a minimum.
Rijuven (rijuven.com): Founded in 2012 in Pittsburgh, PA, the company is on a mission to make healthcare affordable and accessible at the times and places it matters most. It provides a Care Delivery Platform that increases access to healthcare by providing a turn-key infrastructure (hardware, software, services) to support health assessment and care extension to any patient, anywhere, anytime.