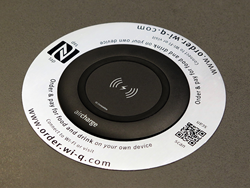 There is undoubted synergy between Aircharge and wi‐Q in meeting consumer demand for next‐generation technology at their fingertips. The partnership allows both companies to add tangible value to hospitality venues and deliver instant ROI with a seamless technology solution
LONDON (PRWEB UK) 4 April 2018
Together, the two companies are exploring using wireless chargers in hospitality venues – and hotels in particular ‐ as access points or triggers for seamless access to device‐based ordering.
The dual solution will allow hospitality venues to create an additional revenue stream from on‐table wireless charging as part of their digital guest engagement. With a rapidly increasing number of devices now supporting Qi wireless charging, consumers are driving demand for this hyper‐convenient charging facility in coffee shops, restaurants and hotels. The partnership between wi-Q Technologies and Aircharge will enable venues to boost revenue, by simultaneously connecting customers to mobile ordering menus through QR codes and NFC tags, which can be built into and around wireless chargers.
Menus for food, beverages and services will load instantly, allowing customers to browse and order in their own language, filter by allergen and dietary requirements, and pay via debit/ credit card, PayPal, Apple Pay or via integration with leading hospitality systems, charge the bill to their hotel room. wi‐Q Technologies reports that, due to its convenience, ease of use, and extensive upselling capabilities, its app‐free solution is delivering average order uplifts of up to 60% and is boosting order numbers by up to 35%.
Graham Cornhill, Co‐Founder and Managing Director of wi‐Q Technologies commented, "There is undoubted synergy between Aircharge and wi‐Q in meeting consumer demand for next‐generation technology at their fingertips. The partnership allows both companies to add tangible value to hospitality venues and deliver instant ROI with a seamless technology solution."
Steve Liquorish, CEO and Founder of Aircharge said, "Hospitality operators are constantly looking for innovations to drive growth opportunities and the partnership with wi-Q strengthens our position as the leading supplier of smart wireless charging solutions for public venues."
For a product demo or more information on either of the two solutions, please email either info@wiq.com or info@aircharge.com.
About wi‐Q Technologies:
wi‐Q Technologies is the multi‐award‐winning developer behind app‐free ordering and payment solutions, wi‐Q for F&B and Mi‐Room for hotel guest services. Wi-Q's white‐labelled any‐device ordering solutions, which operate similarly to Shopify, integrate with multiple common hospitality systems, including Oracle Hospitality. This allows hospitality venues to offer their guests the convenience of ordering and paying for food, drinks and services, on their own device and without having to download an app.
The user‐friendly, online menu, which is fully brand customisable, automatically translates to the customers' device language, and through product upsells and cross sells has been proven to uplift average order value by up to 60%. Customers have the choice of paying via debit/credit card, Apple Pay, PayPal, cash or even charge to room.
About Aircharge:
Aircharge is the world's leading supplier of wireless charging for public venues, the office and home. Aircharge is building a global wireless charging ecosystem currently consisting of over 5,000 public wireless charging locations. Brands deploying Aircharge include McDonald's, Starbucks, Costa Coffee, Premier Inn, Novotel, Vodafone, EE, Virgin Group, Emirates and Eurostar, to name a few.