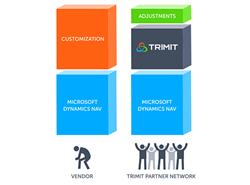 With TRIMIT, we believe we can provide companies the right software solution to optimize their potential and help their employees become even more productive
(PRWEB) April 05, 2018
TRIMIT and Awara IT are proud to announce a new partnership that will enable Awara IT to enhance Microsoft Dynamics NAV with TRIMIT's gold standard industry-specific functionality for companies in the fashion, furniture, and general manufacturing industry.
Managing product variants, dimensions, and product configuration can be demanding and time-consuming, and the challenge often increases as a company grows. Companies worldwide recognize this challenge as well as the challenge to automate and optimize processes and workflows in order to perform at their best. TRIMIT meets these challenges by offering standard software solutions that contain years of best practices from leading companies in the fashion, furniture, and manufacturing industry. The solutions seamlessly integrate PDM, ERP, and ecommerce in one single IT system.
"We are always looking for ways deliver value for our customers more quickly and to make ongoing maintenance simple and efficient. With TRIMIT, we believe we can provide companies the right software solution to optimize their potential and help their employees become even more productive," said Yury Shumakov, CEO at Awara IT.
He continues: "By using TRIMIT's standardized approach to implementation projects, our consultants will be more efficient when scoping and implementing software solutions, and we will be able to deliver significantly faster."
"We are proud to partner with Awara IT," said Troels Rasmussen, Head of Sales at TRIMIT. He continued, "Awara IT comes with over 10 years' experience with Microsoft Dynamics NAV and their extensive business knowledge and commitment to delivering successful projects is what we look for in TRIMIT partners."
Awara IT will work with companies to help them envision and implement TRIMIT's software solutions. Hence, the companies' customers will be able to optimize their business, bolster relationships, and drive growth.
"We look forward to working more closely with Awara IT to grow their market," said Troels Rasmussen, Head of Sales at TRIMIT. "By selling and implementing TRIMIT, Awara IT can accelerate the time it takes for companies to start capturing value out of their IT solutions."
About Awara IT
Awara IT is member of Awara Group leading business administration services provider on the Russian market covering also Ukraine and other CIS countries, serving international and local clients. The company offers outsourcing and consulting services covering all business administration needs. They serve with accounting, tax compliance, audit, law, IT solutions, market research, and headhunting.
Awara IT has offices in Moscow, Saint Petersburg, Helsinki and Barcelona.
Additional information about Awara IT is available at http://www.awara-it.com.
About TRIMIT
For more than 27 years, TRIMIT has been a front-runner in providing companies worldwide with the platform they need to focus on doing business and perform at their very best.
The industry-specific solutions are based on Microsoft Dynamics NAV and works by seamlessly combining PDM, ERP, and E-commerce in one single powerful software solution that provides companies with the insight they need to stay ahead of the competition.
Today, more than 400 companies in the fashion, furniture, and manufacturing industries use a TRIMIT solution to automate and optimize their business from design to delivery.
Additional information about TRIMIT is available at http://www.trimit.com.