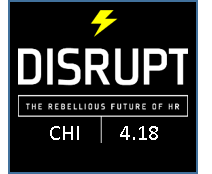 DisruptHR Chicago has become an integral part of Chicago's innovation ecosystem.
CHICAGO (PRWEB) April 09, 2018
DisruptHR Chicago today announced the speaker line-up for its sold-out event, DisruptHR Chicago Spring 2018, to be held at tech incubator 1871.
DisruptHR Chicago Spring 2018 brings together some of the boldest and most inventive minds for a rapid-fire, ignite-style evening of stimulating presentations that challenge outdated HR practices. Ten speakers each have five minutes to present their ideas to the audience. Each presentation features 20 slides that advance automatically every 15 seconds.
Spring 2018 speakers are:

The event, made possible by gold-level sponsors like Skill Scout, Advanced Resources and Workday, will be held on April 18, 2018, at 1871 in the Merchandise Mart. Doors open at 5:15 p.m. with presentations starting promptly at 6:00 p.m. Tickets for this event are sold out, but the wait list remains open.
"DisruptHR Chicago has become an integral part of Chicago's innovation ecosystem," said Nicole Dessain, Co-Founder and President of DisruptHR Chicago. "And this is just the beginning. We will continue to broaden our impact in the community through cutting-edge programming like HR Hackathons and strategic partnerships. Our vision is for Chicago to become synonymous with innovation in Human Resources."
"We're excited to work alongside DisruptHR Chicago and support their mission to improve people practices and policies throughout Chicago's entrepreneurial community," said 1871 CEO Betsy Ziegler. "We are living through a time of extraordinary change. AI and data are massively transforming how companies think about talent acquisition, training, and performance management and DisruptHR Chicago has proven time and again that they can produce the innovative insights, practices, and solutions that help companies thrive."
About DisruptHR Chicago
DisruptHR Chicago, founded in 2016, is a 501(c)(3) educational not-for-profit dedicated to professionals at the center of making work, the workplace, and the workforce better. To learn more visit http://www.disrupthr.co/chicago or call Chad Graham at 602-714-0386. Connect with DisruptHR Chicago via email newsletter, LinkedIn, Twitter, Facebook, YouTube or SoundCloud.