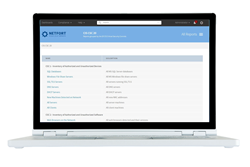 Continuous network activity monitoring and forensics is a fundamental building block of network security and compliance.
(PRWEB) April 05, 2018
NetFort today announced the launch of LANGuardian Release 14.4.1 the latest version of its network traffic analysis and visibility software.
NetFort LANGuardian provides comprehensive visibility of an organization's network activity in minutes. Its unique powerful deep-packet inspection technology can be used on physical or virtual networks of all sizes, for real time monitoring, and reporting on network performance, security and users. Valuable network and user metadata is retained for months in its built in high performance database.
Release 14.4.1 includes a number of major features to help with security compliance monitoring. This LANGuardian release includes a series of reports and dashboards to demonstrate technical security compliance with various standards including CIS CSC 20 and GDPR.
As LANGuardian continuously monitors internal and external activity, internal applications and shared data it naturally addresses a number of critical security compliance requirements. The granular network and user metadata extracted by its DPI engine enables the required audit trail of access to shared data, file shares and SQL databases. LANGuardian also generates both a real time and historical inventory of the devices and servers on the network for compliance. No logs, clients or agents required.
In conjunction with new custom whitelists, LANGuardian reports can easily be used as templates to build focussed reports and alerts to demonstrate compliance.

Encrypted SSL/TLS/QUIC sessions are analysed using wire data to validate that servers are using up to date and secure protocols and ciphers.
Failed attempts to access shared data are tracked for early warning of potential lateral movement or data exfiltration attempts.
Inventory data such as alerts on a new server appearing on the network or when a new server port is detected can be used to build compliance exception dashboards.
An audit trail of file accesses to internal shares by username, file, folder and action is captured and retained as well as all SQL database activity.
"Organisations of all sizes can now demonstrate compliance in a cost effective manner" says John Brosnan, NetFort CEO. "Every device, user and application on the network leaves a traffic trail. Network traffic analysis is a vendor agnostic and very flexible technology which is very easy to implement and can be used for multiple use cases. Continuous network activity monitoring and forensics is a fundamental building block of network security and compliance" says Brosnan.
Note to editors:
About NetFort
Headquartered in Galway, Ireland, NetFort was established in 2002. Its customers include domestic and international businesses throughout the UK, USA and EMEA, ranging from SMEs to large enterprises with multiple locations. LANGuardian is used in a wide range of industry sectors including financial services, high technology, utilities, local and national government, automotive, healthcare, sport, and education.
For more information, visit https://www.netfort.com