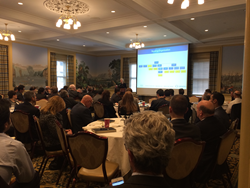 NEW YORK (PRWEB) April 10, 2018
The Wall Street Technology Association (WSTA®), a not-for-profit organization that provides financial industry professionals a forum to learn from and connect with each other, is pleased to announce the availability of CPE (Continuing Professional Education) credits for attending educational seminars and panel discussions in NYC and Boston. Since WSTA members may attend seminars and panels at no cost, this new educational program enhancement will provide them with a very cost-effective way to help them earn their CPE credits. CPE credits will be offered at both NYC and Boston events.
WSTA educational seminars and panel discussions offer opportunities to hear educational content focused on financial services from thought leaders covering all aspects of current and emerging technologies including digital, cloud, data management, analytics, cybersecurity, architecture, fintech, applications, AI, big data, mobile, social media, and IoT. These interactive sessions provide lots of opportunity for audience Q&A and learning from industry peers. The demo room at seminars offers the added opportunity to see technology solutions in action.
Profile
The Wall Street Technology Association (http://www.wsta.org) provides financial industry technology professionals, vendors, service providers, and consultants forums to learn from and connect with each other. The WSTA facilitates educational and networking events where members meet and exchange ideas and best practices that assist them in effectively capitalizing on technology advances and dealing with financial industry business challenges. Founded in 1967, the WSTA is a not-for-profit association with a long history of evolving to meet the needs of its members.
The WSTA hosts seminars, roundtables, panel discussions, and social events. These events offer many opportunities to stay on top of leading technologies, as well as network and share information with industry colleagues. The WSTA's monthly educational Digital News provides additional content and information about the WSTA and industry-related activities. The website is a dynamic resource for keeping on top of the latest information and offers access to additional resources including webinars, white papers, articles, videos, and information about other industry events.