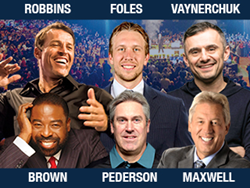 I can't wait to share the stage with Tony Robbins on this event and I'm excited to be with the fans in this environment
PHILADELPHIA (PRWEB) April 05, 2018
Nick Foles, Super Bowl MVP Championship Quarterback of the Philadelphia Eagles, and Tony Robbins, the World's #1 Business Strategist, will hit the stage in Philadelphia May 3rd, 2018 for the Ultimate Wealth and Achievement Summit.
Business and community leaders all over Philadelphia will gather at the Pennsylvania Convention Center for this daylong event to get motivation and training from Tony Robbins, Coach Doug Pederson and Nick Foles, celebrate the Eagles Super Bowl victory, and glean success strategies from other celebrity achievers featured at the event.
This world class business event combines entertainment, education and celebration in a one day seminar packed with superstar speakers. Nick Foles and Tony Robbins will be joined live on stage with Philadelphia Eagles head coach Doug Pederson, the World's #1 Motivational Speaker Les Brown, NY Times best-selling author Dr. John Maxwell, the World's #1 Marketing Guru, Gary Vaynerchuck and several surprise guests.
"I can't wait to share the stage with Tony Robbins on this event and I'm excited to be with the fans in this environment," says Nick Foles, famous for his drive, determination and motivation to win. At the Ultimate Wealth and Achievement Summit Foles will reveal some of the top keys to his monumental success.
"This is Nick's first public event since winning Philadelphia's first-ever Super Bowl and becoming the greatest quarterback in Eagles history," says Brian J. Forte, Director of the event and award-winning producer. "We are thrilled to have Nick and Doug on stage. The fans are really looking forward to seeing them in this atmosphere, outside of the football stadium, sharing their secrets to success."
Forte says, "Pennsylvania's top business leaders and professionals will attend this event because it's a way to recharge and refocus, network and sharpen your skills. There is no question Tony Robbins can motivate an audience. He is the best in the world. When you combine that with coaching from Doug Pederson, and success strategies from Nick Foles, and all the entertainment and surprises we have in store – it's going to be the most phenomenal event we have ever produced!"
For advance tickets, call 1-800-203-4489 or go to AchieveSummit.com.
Limited seats. This event will sell out.
For media information and requests, call 1-800-203-4489