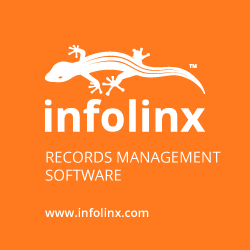 KENSINGTON, Md. (PRWEB) April 05, 2018
Infolinx, a leading provider of records management software, is pleased to announce that they will be exhibiting at the ARMA Houston Spring Conference at the Norris Conference Center in Houston, Texas April 24 – 25, 2018.
This year's conference offers relevant educational sessions that focus on information governance, information management, and change management challenges. The conference brings together stakeholders from all levels of the RIM profession, representing both local and international enterprises.
As a long-time supporter of the ARMA Houston Conference, Infolinx will be showcasing its latest records management software feature set, including digital content management and expanded legal holds and disposition functionality, all available on-premises or in the cloud.
Infolinx provides a powerful, streamlined solution built for the compliance challenges of the oil & gas industry. Highlighted features include:

Advanced retention, legal holds, and disposition functionality for both physical and digital records
Easily locate information with robust, full-text searching on any data field, regardless of file type
Value-added integrations with leading ECM/DMS and off-site storage providers for managing records in other repositories or in multiple warehouse locations.
Automatic approval workflows and comprehensive audit trail
Infolinx invites attendees to see live product demonstrations at booth #6 during exhibitor hours April 24th – 25th.
About Infolinx®
Infolinx is a leading provider of records management software solutions for physical records management and digital content management. Its solutions enable organizations to efficiently access and manage critical records and information from a single, browser-based application.
Available on-premises or in the cloud, Infolinx software solutions are implemented across a variety of industries, including financial services, pharmaceutical, healthcare, legal, and local, state, and federal governments. To learn more, visit http://www.infolinx.com.