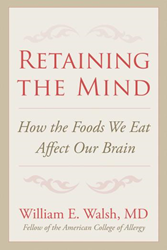 Retaining the Mind shows you how our diet causes dementia and tells you how to change your diet
ROSEVILLE, Minn. (PRWEB) April 06, 2018
Is it possible to slow the progress of dementia and Alzheimer's disease?
Within the pages of Retaining the Mind: How the Foods We Eat Affect Our Brain ($16.99, paperback, 9781634139809; $8.99, e-book, 9781635053869), readers will discover how diet is the main cause of the nerve damage and destruction that causes the mind failure called dementia.
"Retaining the Mind shows you how our diet causes dementia and tells you how to change your diet," Dr. William Walsh says. "This book shows you how to recover the thoughts, plans and purposeful activities certain foods stole from you."
Readers will learn how to not only slow the progress of dementia, but also how to recover from the mental disaster.
"Current teaching states that there is no recovery from Alzheimer's disease, but Retaining the Mind shows the reader how to do it," the allergy specialist says. "Millions suffering dementia want to arrest and even reverse this nerve damage.
"Following the diet is not easy," adds Walsh, who is recovering from Alzheimer's disease after altering his diet. "You must give up many of the delicious foods that you enjoy. However, if you do not change your diet, you may lose what must be more precious to you than delicious foods--your ability to think, plan and care for yourself."
A doctor of medicine, William Walsh is an allergy specialist and a graduate of a fellowship in allergy at the Mayo Clinic. His previous books include Treating Food Allergies, My Way: Exploring the Most Important Food Allergies; The Food Allergy Book: Food Allergies: The Complete Guide to Understanding and Relieving Your Food Allergies; and Home Allergies: Don't Let Your Home Make You Sick.