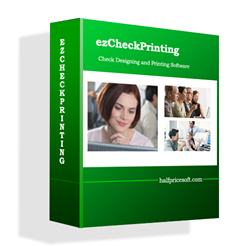 Latest ezCheckprinting business software gives customers a less expensive check writing solution to streamlining the company finances.
JACKSONVILLE, Fla. (PRWEB) April 06, 2018
Check printing software developers at Halfpricesoft.com have released the new edition of ezCheckPrinting software. Businesses that need to streamline and reduce expenses within the company are welcome to test drive ezCheckprinting business check writer. This innovative office tool allows companies to print checks, in-house, using blank check stock for a much less expensive bill paying solution.
"Latest ezCheckprinting business software gives customers a less expensive check writing solution to streamlining the company finances." said Halfpricesoft.com founder Dr. Ge.
Clients can write and print a check with just a few clicks of the mouse. Potential customers can also download the demo version at http://www.halfpricesoft.com/check_printing_software_download.asp
with no cost or obligation.
Starting at just $39 per installation (Free through TrialPay offer), ezCheckPrinting is affordable for any size business and is compatible with all popular brands of laser printers (most of which can print bank-accepted MICR numbers) and specialized MICR printers.
A few benefits for using ezCheckprinting are:
Check writer increases security.
With ezCheckPrinting, user can printing checks when he needs them, rather than having pre-printed checks lying around, minimizes opportunities for someone to steal the checks.
Check writer saves time for users.
Customers can import the check data from external checks and print hundreds of checks with just a few clicks. This import feature enables ezCheckPrinting print checks for QuickBooks, Quicken, ezPaycheck, Peachtree or other software.
Tax time is simplified with check printing software. Just a few clicks of the mouse generates a full report of all the checks you've written in the past year
Check writing software saves money.
Using blank check stock is much less expensive than having checks pre-printed. Plus, if user ever has to change banks or change the address or other information on checks, he doesn't have to have new checks printed.
Creating a check is simple with ezCheckPrinting! To learn more about ezCheckPrinting check writing software, user can visit http://www.halfpricesoft.com/product_ezCheck.asp
About Halfpricesoft.com
Founded in 2003, Halfpricesoft.com has established itself as a leader in meeting and exceeding the software requirements of small businesses around the world. Offering payroll software, employee attendance tracking software, accounting software, check writing/printing software, W2 software, 1099 software and ezACH deposit software. It continues to grow in the philosophy that small business owners deserve affordable, user friendly, and totally risk-free software.