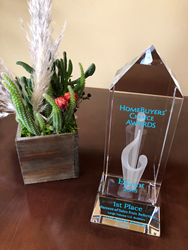 We can safely say that this is the highest rate of sales from referrals that we've ever seen for any of the close to 1,000 builders we have worked with in 34 years. - Bob Mirman
FRESNO, Calif. (PRWEB) April 10, 2018
McCaffrey Homes, a leading local third-generation family homebuilder in California's Central Valley, has been honored with a national first place Eliant 2018 Homebuyers' Choice Award for the Highest Percent of Sales from Referrals in the Large Builder category. The company was recognized with 53 percent of sales from referrals in 2017.
"We can safely say that this is the highest rate of sales from referrals that we've ever seen for any of the close to 1,000 builders we have worked with in 34 years," said Bob Mirman, founder and CEO of Eliant, a customer experience management company that has been surveying buyers of new homes for more than 34 years. The 2018 Homebuyers' Choice award winners were based on a comprehensive survey of 128,200 homeowners who recently purchased a newly built home from over 156 major homebuilders across the U.S.
McCaffrey Homes received a total of six 2018 Eliant Homebuyers' Choice Awards in a wide variety of categories including two Top Ten awards for Purchase Experience and First Year Customer Service Experience along with Honorable Mentions for Design Experience, First Year Quality, and Overall Purchase and Ownership Experience.
"We are thrilled to have Eliant confirm that 53 percent of our sales in 2017 came from referrals," said Brent McCaffrey, president of McCaffrey Homes. "To know that our home owners love their McCaffrey homes enough to recommend them to their families and friends is a shining testament to the hard work and dedication of our entire team."
To view the 2018 Eliant Homebuyers' Choice Awards winners, visit https://eliant.com/images/winners_list_2018.pdf.
About McCaffrey Homes
McCaffrey Homes is dedicated to building homes that last a lifetime, while meeting the needs of homebuyers at every stage of life. With three generations of experience, the McCaffrey team has built more than 9,000 homes and been honored nationally and locally for the quality of its construction and service.
Currently, McCaffrey Homes is building three neighborhoods in Madera and Clovis, California: the Santerra and Ivy neighborhoods at Riverstone, a new master-planned community in Madera, and Santerra Clovis, the company's newest community in Clovis, Calif. McCaffrey has also broken ground on Tesoro Viejo, their own 1,600-acre master-planned community in Madera, which won the 2016 Outstanding Planning Award in Innovation in Green Community Planning.
For more information, visit https://www.mccaffreyhomes.com/ and http://www.tesoroviejo.com/.