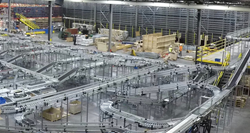 GRAND RAPIDS, Mich. (PRWEB) April 05, 2018
Within its largest fulfillment center in the Americas located in Olathe, Kansas, TVH Parts Company (http://www.tvh.com) has achieved its objectives of maximizing space with the installation of an $8.7 million automated material handling solution from TGW. The project includes a STINGRAY shuttle system and ergonomic goods-to-person order fulfillment workstations. With the new equipment—which closely mirrors that used in TVH's Waregem, Belgium operations—the world's largest distributor of parts for industrial equipment is able to address a proliferation of stock keeping units (SKUs) and an increase in both customer orders and intercompany stock transfers.
"The need to do something different came as a direct result of our mission statement in which TVH desires to be a One-Stop-Shop for our customers," explains Rod Strickland, Operations Manager at TVH. "This has led to an explosion in the number of SKUs stocked at our Kansas distribution center. While we had a few different choices in which we could expand our primary pick area, the overwhelming answer was a goods-to-person system."
Previously operating as a conventional, manual handling facility, the Kansas operation was rapidly outgrowing both its square footage capacity, as well as that of its associates to store, pick and ship all product lines at the company's desired rate of throughput.
To address that need, the new TGW STINGRAY shuttle provides high-density cubic storage in minimal square footage. At TVH, five aisles of storage house 50,000 different storage locations accessed by multiple shuttle vehicles that automatically store and retrieve 100,000 different SKUs—eliminating the time and labor previously required to complete the same activities. Future-proof, the shuttle system leaves room for additional growth as it is can be expanded to 10 aisles when needed.
All items handled within the STINGRAY shuttle system are stored in reusable plastic totes, which are retrieved and fed to operators waiting to pick from them at six ergonomic, goods-to-person picking workstations. Once items have been picked, the tote is automatically returned to the storage system; completed orders route automatically to pack-out and shipping. At the same time, inventory replenishment is also automated, as the system connects directly to the receiving area and reserve storage areas—seamlessly pulling in needed items when stock in the shuttle begins to run low.
Strickland notes that the system has already achieved its goal of supporting the picking of approximately 1,000 items per hour without TVH needing to increase its workforce. "After looking at several systems in the market, we decided TGW had the product offering and the team to implement the right solution," he notes. "TGW designed, manufactured, and installed an automated storage and retrieval system (AS/RS) that has doubled our pick capacity and can fill orders faster than ever before."
"It's been a true pleasure to help the team at TVH to design, implement and commission a system at their American distribution center that allows them to achieve high throughput and accuracy by enabling workers to be extremely efficient," says Andy Lockhart, Vice President Sales, Integrated Systems for TGW. "We look forward to continuing to work with them to expand as customer demands for their products grow."
About TGW Logistics Group:
TGW Logistics Group (tgw-group.com) is a global leading systems provider of highly dynamic, automated and turnkey logistics solutions. Since 1969 the company has been implementing different logistics solutions, from small material handling applications to complex logistics centers. With approximately 3,000 employees worldwide, the Group implements logistics solutions for leading companies in various industries. In the business year 2016/17, the TGW Logistics Group generated sales revenues of $950 million U.S.
Pictures:
Reprint with reference to TGW Logistics Group GmbH free of charge. Reprint is not permitted for promotional purposes.
Contact:
Andy Lockhart, Vice President Sales, Integrated Systems
TGW Systems, Inc.
3001 Orchard Vista Drive SE, Suite 300
Grand Rapids, MI 49546
T: 231.798.4547
E-mail: andy.lockhart@tgw-group.com
Press contact:
Lynn Metzger, Business Development and Marketing Manager
T: 616.970.5492
E-mail: lynn.metzger@tgw-group.com