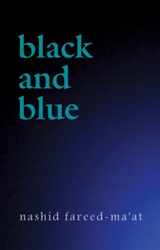 This novel utilizes a creative, dramatic approach to address issues of social concern surrounding the ongoing history of police shootings of unarmed Blacks
SCOTIA, N.Y. (PRWEB) April 06, 2018
Within the pages of black and blue by nashid fareed-ma'at ($19.99, paperback, 9781545625965), a Black detective is assigned to investigate the shooting of an unarmed Black man by a White officer. The investigation reveals other social issues are intimately connected to the case.
"This novel utilizes a creative, dramatic approach to address issues of social concern surrounding the ongoing history of police shootings of unarmed Blacks," the author states. "It also explores the dynamics of a Black man who grew up in the 'hood now working as a cop.
"Despite the ever-shifting focus of mainstream media, questionable incidents of unarmed Blacks being shot by police continue to occur," the author adds. "This book looks to contribute to genuine efforts to honestly explore and finally resolve these issues."
nashid fareed-ma'at is a Black artist who has been writing for many years. His writing includes poetry, prose, plays and screenplays, which addresses issues of relevance to people of African descent as well as spiritual matters.