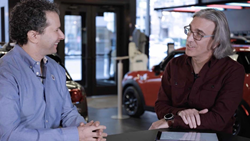 "I created The BuzzBubble as a peer-to-peer sharing of ideas with a focus on bringing fresh voices and perspectives from the advertising industry to light."
NEW YORK (PRWEB) April 05, 2018
Bigbuzz Marketing Group, a NYC-based digital advertising agency, announced a new season of The BuzzBubble, a popular video podcast launched in 2010 featuring authentic interviews with leaders in advertising and marketing. Season five debuted March 22nd and is free to view at thebuzzbubble.com.
"I created The BuzzBubble as a peer-to-peer sharing of ideas with a focus on bringing fresh voices and perspectives from the advertising industry to light," said Kevin Kelly, President of Bigbuzz Marketing Group. "Guests include some of the world's most important thought leaders from top agencies and consumer brands. Great advertising programs can change the way consumers think about a product or brand."
The first episode of The BuzzBubble's fifth season features Lee Nadler of MINI, a division of BMW, talking about branding and innovation. Past guests include the world-renowned American art director and designer George Lois; Tony Hsieh of Zappos.com; Amir Kassaei of DDB; Alex Bogusky of CP+B; Barry Wacksman of R/GA; Nick Law of R/GA; Rob Schwartz of Chiat Day; Perry Fair of Grey Advertising; Mike Hughes of The Martin Agency; Andy Azula of The Martin Agency; Val DiFebo of Deutsch NY; Jeff Goodby & Rich Silverstein of Goodby-Silverstein & Partners; Peter Shankman; Chuck Porter of Crispin Porter + Bogusky; Mike Sheldon of Deutsch LA; Terry Young of Sparks & Honey; Leo Premutico of Johannes Leonardo; Jon Castle of Nissan United; Jimmy Smith of Amusement Park Entertainment; Deb Zmorenski, former Walt Disney World executive; Dr. Bob Deutsch of Brain-Sells.com; and others.
About Bigbuzz Marketing Group:
Bigbuzz Marketing Group is a digital advertising agency providing global brands with strategic marketing services. Headquartered in New York City, Bigbuzz helps its clients reach and influence consumers with 360-degree marketing campaigns utilizing today's most popular platforms for advertising and social media. Founded in 1997 and today co-owned by advertising executives Kevin Kelly and Doug Graham, the agency has worked with some of the world's greatest brands, including Honeywell, AB InBev, Garanimals and many others.