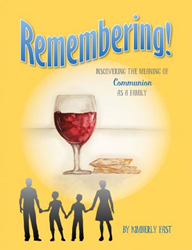 Communion is celebrated in every Christian church, but many families struggle to explain the meaning behind the sacrament
TRUMAN, Minn. (PRWEB) April 06, 2018
Explaining the meaning behind the sacrament can be a challenge for families, but now comes a welcomed resource.
Remembering: Discovering the Meaning of Communion as a Family ($15.49, paperback, 9781545626900; $7.99, e-book, 9781545626917) is curriculum designed to empower families and churches of various denominations in preparing children for communion by exploring foundational concepts through hands on activities, games and stories.
"Communion is celebrated in every Christian church, but many families struggle to explain the meaning behind the sacrament," Kimberly Fast says. "This curriculum understands how children learn and engages their senses and imaginations to bring the principles alive."
An engaging weekly story explores the biblical truth through the eyes of a child and there is a symbolic Seder meal. Additionally, parent and child discussion activities and games allow families to interact and grow together. Special projects to do at home also form a basis for family devotional times.
" As parents struggle to pass on their faith values, this curriculum is a powerful resource," the author states. "Through stories, activities and games, this hands-on curriculum will allow churches, schools and families help prepare for the communion celebration."
Kimberly Fast is a mother of three with a master's degree in curriculum and instruction. She is passionate in assisting families to pass on their faith values to the next generation.