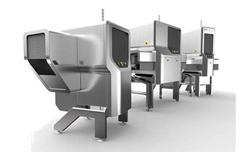 SAN CARLOS, Calif. (PRWEB) April 04, 2018
Peco InspX, the world's leading authority on high performance X-Ray inspection equipment for the food and beverage industries is pleased to announce its presence at Pack Expo East (April 12-22) in Booth 1009. The focus of this year's show will be advanced ejection solutions and ejection traceability.
"Ensuring that all products marked for ejection are in fact correctly ejected from the line is a critical part of the inspection process. At this year's Pack Expo East, Peco Inspx will be demonstrating our new rejection marking solution that we developed in partnership with Domino," remarked Peco InspX CEO Rich Cisek. "This solution allows 100% matching of x-ray images of rejected containers with the containers themselves – this level of traceability allows operators to have 100% assurance that all of correct containers were in fact correctly removed from the line," continued Cisek.
Peco InspX will also feature its latest top-down and side-view SHIELD X-Ray inspection systems. These systems feature industry leading hygienic design, inspection performance and ease of use. SHIELD systems are also available with comprehensive image archiving capability which allows complete serialization of the production process. Each unique X-Ray inspection image can be stored with other inspection attributes, such as the product serialization code, the label inspection image and other inspection elements. This information can be used to provide absolute objective proof of comprehensive product inspection.
For more information on Peco InspX's advanced X-Ray inspection systems, please visit http://www.peco-inspx.com/solutions/x-ray-inspection/
About Peco InspX
Peco InspX Corporation is a leading provider of advanced technology inspection solutions for the food and beverage industries. With headquarters in Silicon Valley (San Carlos), CA and European headquarters in Nuneaton, UK, the company serves customers around the world and inspects over 120 million food and beverage containers daily. The company specializes in accurate high speed package inspection in machines that are easy to use with a low cost of ownership.