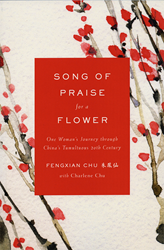 Surprisingly, very little is written about this period of history-less than most other countries in the world. China's cultural, political, and geographical inaccessibility are mainly the cause. Or simply, Chinese or western authors lacked the wherewithal to tackle the immensity of this topic.
BOSTON (PRWEB) April 05, 2018
"Fengxian Chu's first-person account of growing up female in feudal rural China is ultimately uplifting as it is heart wrenching. Beautiful and bravely written. Bravo."
Michael J. Totten, author of Where the West Ends
SONG OF PRAISE FOR A FLOWER
One Woman's Journey Through China's Tumultuous 20th Century
An Autobiographical History by Fengxian Chu
with Charlene Chu
Publisher: CreateSpace, 486 pages
Trade Paperback: ISBN 978-197642540
Price: $19.99
Kindle Price: $9.99
The historical expanse of one woman's written tribute to four generations of her family's struggles through poverty, China's political upheavals, and her personal persecutions in Song of Praise for a Flower is breath taking. Fengxian Chu, whose name translates as the "Vermilion Impatiens" flower is still very much alive and in her 90s. She originally thought that her personal journal would be a legacy for her children to know their roots because she believed that "knowing one's family history is imperative because it is the starting point of one's life." The tireless efforts of her cousin, Charlene Chu, whose account of finding her cousin is in itself a phenomenal story, helped to shape Fengxian's journal into the incomparable account for a much larger audience of "One Woman's Journey through China's Tumultuous 20th Century."
Surprisingly, very little is written about this period of history-less than most other countries in the world. China's cultural, political, and geographical inaccessibility are mainly the cause. Or simply, Chinese or western authors lacked the wherewithal to tackle the immensity of this topic. Pearl Buck's trilogy, The Good Earth, Sons, and A House Divided, dramatizes life in China before the Second World War, but she was the daughter and wife of missionaries, as well as an instructor of English at a Chinese university. She did not live the lives she wrote about in this very limited time period. Fengxian Chu was born in the feudal society of southern China's Hunan Province, in the town of Huaguo along the banks of the Xiang River where she loved to watch the dragon boat races. Women suffered the custom of foot binding to keep them from venturing far from home, arranged marriages, and imposed illiteracy. Men were unchallenged chauvinists, superior in every way to women, and allowed to keep concubines, a custom enjoyed by her grandfather. Even though Fengxian's mother was a traditional foot-bound woman, her father was enlightened and very tolerant. He educated his daughters, eschewed prearranged marriage, and insisted on encouraging their free choice.
Before the Japanese occupation of China, Fengxian attended college and chose to become engaged to Commander Weiluan Han, an officer in Chiang Kai-shek's Koumintang (KMT), the political party that ruled China but was rivaled in the country's civil war by the Chinese Communist Party (CPC). Unable to marry because Commander Han was called to fight during the Japanese invasion which began in 1937, Fengxian's account of her village's ordeal in coping with the Japanese onslaught that caused the rivers to run red with the blood of the helpless was particularly heart-rending. By day Fengxian, her family, and some villagers hid in mountain caves and by night they would return to their village in an attempt to save some of their possessions before the Japanese returned the next day to continue their ransacking.
There is so much more to this poignant story. With the end of the Japanese occupation, Commander Han returns to Fengxian and they marry. Mao Zedong's Communist Party takes over in 1948, and Weiluan Han is labeled a "bad element," a counter-revolutionary that poses a threat to the new regime and needs to be sent to a re-education center. The couple suffered nearly hopeless poverty, the birth of children, and the death of a child from starvation during the country's "Great Leap Forward," which was unsuccessful in its aim at transforming the country from an agrarian economy to a socialist economy, yet they managed to keep their hope and love alive. They witnessed the purging of bourgeois elements that had infiltrated the communist party during the "Cultural Revolution" of the 60s and 70s and managed the strength to transcend the hardships of floods, famine, rationing and Weiluan's hateful family and relatives. Song of Praise for a Flower gives readers an incomparable eye-witness view of an otherwise obscured period of China's history.
Despite relentless hardships, Fengxian Chu says of her life, "Life can be a song or a whine. I prefer to sing."
About the Authors
Charlene Chu, Fengxian's first cousin, grew up in the United States and wrote the English rendering of Song of Praise for a Flower. A financial analyst well-known for her work on China's economy and financial sector, she is quoted widely in the "Wall Street Journal," "Financial Times," "Bloomberg, Business Insider" and other media outlets. She holds an MBA and MA in International Relations from Yale University. Charlene splits her time between Washington, DC, and Hong Kong.
Fengxian Chu spent most of her life living and working on a farm. She attended college briefly, but her education was interrupted when the Japanese army invaded her village in the 1940s. A writer and poet from a young age, she is unique among her generation of rural Chinese women, the majority of whom never attended school and are illiterate. Song of Praise for a Flower is Fengxian's first work to be published, and among the only known first-person accounts from a woman of her generation about life during China's turbulent past century. Now in her 90s, she enjoys gardening and spending time with her children, grandchildren, and great-grandchildren. She resides in Shenzhen, China.