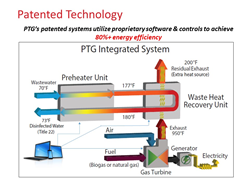 Our new EWaaS offering enables businesses that are heavy users of water and energy to take control of these resources, reduce their carbon footprint, and save money — all with zero upfront capital investment.
SAN LEANDRO, Calif. (PRWEB) April 06, 2018
PTG Water & Energy® (PTG), an innovator of integrated power generation and water efficiency systems, has launched a new program — energy+water as a service (EWaaS™) — to help commercial and industrial users save and control scarce resources with no capital outlay.
"Growing companies, especially ones looking for water and energy solutions, typically don't have the capital for major investments in new infrastructure. Consequently, they find themselves too dependent on utility-based resource supply systems that cannot consistently support their needs," said Greg Ryan, CEO and co-founder of PTG. "Our new EWaaS offering allows these businesses to take control of their energy and water resources, reduce their carbon footprint, and save money — all with zero upfront capital investment. We think we have created a winning solution."
Commercial and industrial users that are heavily dependent on water and energy face increasing resource supply challenges and cost uncertainties. In response, many are looking for new ways to secure their water and energy requirements. Many different facilities and operations can benefit from EWaaS, including craft breweries, wineries, food processors, beverage producers, municipal water reclamation and processing facilities, agricultural processors, textile manufacturers, and chemical manufacturers, among others.
Under EWaaS, PTG builds, installs, commissions and maintains an on-site water-energy system. Electricity and thermal energy generated by the system are provided to the customer at rates lower than the utility-based tariffs, with guaranteed minimum savings. PTG's systems also provide customers with data that can be used to run their operations more efficiently. Customers secure these critical services, savings and data under a multi-year agreement with PTG, providing resource cost predictability and supply stability.
EWaaS customer snapshot: Smog City Brewing

Smog City Brewing is a family-run craft brewery based in Southern California that is focused entirely on creating and distributing exceptional beers. Strong consumer demand for its products has meant that Smog City has been operating at capacity ever since it opened in 2011. Recently, the brewer expanded its taproom space in Torrance, and has broken ground on a new expansion that will require significant capital resources.
To find resource-efficient ways to address its growth, Smog City investigated how to produce and control power needs within the new brewery. After researching several approaches to address growth, Jonathan Porter, Smog City's co-owner and head brewmaster, became intrigued by the capabilities of PTG's water and energy system, which can generate most of the power needed for his brewery operations and increase Smog City's energy efficiency. Initial calculations showed the PTG system could reduce electricity and natural gas bills by more than 50 percent.
To minimize capital resource expenditures, PTG agreed to design, build, install and commission its water-energy system in accordance with Smog City's specifications and with no upfront investment or cost to Smog City. Smog City will purchase the electricity and thermal energy produced by the PTG-owned system at reduced rates compared with current utility-based rates, immediately delivering a significant portion of total potential savings to its brewing facility operations. Better still, the system has eliminated the need to purchase an additional boiler, saving more than $70,000 in capital expenditures.
PTG offers super-efficient and scalable energy-water systems for commercial & industrial users
PTG's EWaaS™ program, like the solution designed for Smog City Brewery, will give facilities control over their energy and water resources which are critical to sustaining operations. Customers are better able to predict their resource costs and to understand, in relevant detail, how they are using these resources. PTG meets these needs with integrated water + energy technologies that are tailored to the unique requirements of managing water and energy at these facilities.
How to learn more

Organizations that want to explore controlling their own water and energy resources should contact PTG for a free assessment
Go to http://www.ptgwe.com or email us at info@ptgwaterandenergy.com
Given a positive assessment, PTG will propose a customized solution
About PTG Water & Energy
PTG Water & Energy specializes in integrating water and energy operations for its customers, creating platforms that reduce waste, cut costs, and ultimately deliver attractive returns on investment. In addition, the system platforms collect previously unobtainable data to deliver increased production efficiencies and predictive service analytics. PTG's technologies are positive from a sustainability perspective; they greatly increase the efficiency of resource use by reducing waste and supporting water reuse. This means less consumption and greenhouse gas emissions. PTG has won numerous awards including the Katerva Award, the Artemis Top 50 Water Tech award, and the Popular Science "Best of What's New" award. For more information, visit http://www.ptgwe.com and follow us on Facebook, LinkedIn and Twitter (@PTGWaterEnergy).