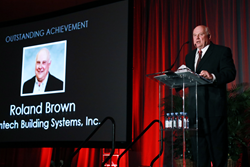 During his 37 year career, Roland Brown has created many unique structural designs helping Ramtech to be recognized as an innovator while contributing enormously to the technical evolution of the commercial modular industry
MANSFIELD, Texas (PRWEB) April 04, 2018
The Modular Building Institute awarded Ramtech Building Systems' Roland Brown with the organization's prestigious Outstanding Achievement Award at the trade association's 35th annual World of Modular convention and trade show held March 22-25 in Hollywood, Florida. Mr. Brown, Ramtech's vice president of design and development, received the award from Ramtech's Founder and CEO Mike Slataper and company President Linc Moss during the convention's awards banquet at the conclusion of the conference. In presenting the award, Moss stated, "During his 37 year career, Roland Brown has created many unique structural designs helping Ramtech to be recognized as an innovator while contributing enormously to the technical evolution of the commercial modular industry." The MBI's Outstanding Achievement Award is given annually to one individual honoring their exemplary contribution and service to the commercial modular building industry and to the Modular Building Institute.
Mr. Brown began his career in the commercial modular industry with PBS Building Systems in 1981. While at PBS Mr. Brown quickly became known for his ability to analytically solve problems and to develop the structural design solutions required to construct challenging projects. In 1988, he joined Ramtech Building Systems as the company's engineering manager, allowing the design-build modular construction firm to confidently pursue more complex projects which help set them apart from their competitors. Mr. Brown was promoted to Ramtech's vice president of design and development in 1998 and remains in that capacity today. His contributions to the modular construction industry extend to his long history of advocacy in addressing code and compliance issues to the Texas Industrialized Building Code Council, the state's governing body for residential and commercial modular buildings. In 2010, former Texas Governor Rick Perry appointed Mr. Brown to serve on the 12 member Texas IHB council where he is currently the presiding officer leading a group of design professionals, industry representatives, general contractors, and municipal building officials. In 2014, Mr. Brown was selected to be on the board of directors of the Modular Building Institute and in 2017 was appointed to the executive committee where he currently serves as vice president elect for the association. Mr. Brown is a noted speaker and presenter on engineering topics and issues and currently participates on the International Code Council team that is developing code compliance language for commercial buildings created from shipping containers.
Mr. Brown became the fourth Ramtech executive to receive the Outstanding Achievement honor since the MBI began recognizing individuals in 1988. He joins Messrs. Slataper and Moss along with former president Bob Houchin as previous winners of the award. Ramtech Building Systems has a long history of service to the commercial modular building industry, having had three members of the company serve as MBI association presidents. The company is also the only firm in the commercial modular industry that has employed four Outstanding Achievement recipients along with two MBI Hall Of Fame honorees in Messrs. Slataper and Moss.
About Ramtech and Modular Construction
Since 1982 Ramtech Building Systems has been providing innovative relocatable and permanent modular buildings for educational institutions, government agencies, healthcare providers, and Fortune 500 companies throughout the Southern United States. As a design-build construction company, Ramtech provides full in-house design, a manufacturer direct product, and complete site construction services all within a single-source solution. Ramtech offers permanent modular construction on both a pier and beam or concrete slab foundation. Both options combine the best of off-site prefabrication and on-site construction techniques in order to produce a building faster and with less cost but identical in the look, functionality and life expectancy of a completely site-built structure. By emphasizing a value engineering approach, Ramtech has successfully completed over 4,000 diverse projects of all sizes. For more information, visit the company's website at RamtechModular.com.