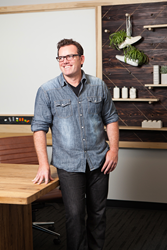 I'm thrilled to be nominated to participate in an event that highlights San Diego's emergence in the tech industry as a hub for innovation and tech jobs
SAN DIEGO (PRWEB) April 10, 2018
Brendan Smith, Founder, CEO and President of Motive Interactive, has been nominated for the 2018 Top Tech Exec Awards, honoring outstanding technology executives who work in San Diego. "I'm thrilled to be nominated to participate in an event that highlights San Diego's emergence in the tech industry as a hub for innovation and tech jobs," said Smith of the awards program.
Since its inception in 2008, the Top Tech Exec Awards has grown to be the premier information technology event in San Diego. Since 2012, all presiding mayors of San Diego have declared the day of the event "Top Tech Exec Day" recognizing the city's information technology leaders and their contributions to the San Diego community. In past years the program has honored Christopher Longhurst, Chief Information Officer of UC San Diego Health; Brian Andrews, VP of Technology at Stone Brewing Company; and Jeanette Sanchez, Chief Information Officer of AMN Healthcare. Nominees and honorees of the Top Tech Exec Awards will be recognized at the 2018 event held on Thursday, May 10, 2018 at the Paddock of Del Mar Fairgrounds. For a list of all 2018 nominees, visit: http://www.toptechexecs.com/2018-top-tech-awards-nominees/.
About Motive Interactive:
Motive Interactive is a global mobile app optimization and marketing company that combines over 15 years of experience in the digital advertising industry and sophisticated programmatic technology to drive user acquisition for some of the world's top mobile app companies. In 2017, Motive was recognized as part of Inc. 5000's exclusive Hall of Fame list for its five-year consecutive rating as one of the fastest-growing private firms in America. Additionally, Motive was named a Top 20 Partner by Singular's Mobile ROI index, a ranking that evaluates over 1000 mobile ad networks, 1500 apps, and over $3B in ad spend to identify the world's best performing ad networks across the globe. For more information about Motive, visit: http://www.motiveinteractive.com.